The Lincoln Lawyer Performs A McConaughey Miracle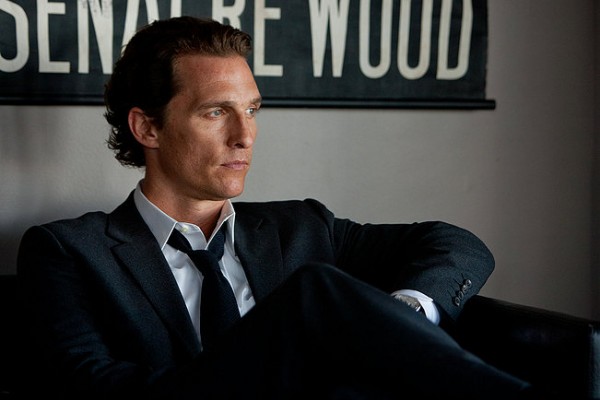 The Lincoln Lawyer
Directed by Brad Furman
Written by John Romano based on the novel by Michael Connelly
Lionsgate, 2011
Matthew McConaughey's career after his iconic turn as Wooderson in Dazed and Confused looked destined for superstardom.  He shot to the top of the list to play Jake Brigance in A Time to Kill, had an amazing turn as a racist sheriff in Lone Star, rubbed elbows with Jodie Foster in Contact, and landed a Spielberg film, Amistad.  When the 2000s hit, McConaughey started doing head-scratching romantic comedies and bad action/thriller/adventures.  Aside from Frailty, where it looked like he might still be trying, the Texas-born star went on a streak of bad movies, some of them unfortunately being hits, many of them being bombs of a hurtful nature: The Wedding Planner, How to Lose A Guy in 10 Days, Two for the Money, Sahara, Failure to Launch, Fool's Gold, and Ghosts of Girlfriends Past.
Still, we knew McConaughey could be good (look at the nineties, I kept saying), the question was, would he ever again?  Perhaps he's stepping in the right direction.  The Lincoln Lawyer, while not a slam dunk, is a step in the right direction.  Aside from his Tropic Thunder cameo, this is the best thing he's done since Frailty.
Mick Haller (McConaughey) is a slick-talking, money-grubbing lawyer with tons of tricks up his sleeve.  He knows the law, and its loopholes, better than anyone it seems.  Early on, we see him screw an nonpaying client royally by keeping his client in jail under the guise of trying to get him out.  A bail bondsman named Val Valenzuela (John Leguizamo) refers clients to him, and his latest is a big fish, the rich Louis Roulet (Ryan Phillippe), who is being accused of bashing a hooker's face in.
Roulet claims it's all a setup to get some of his family's money.  We find out his mother (Frances Fisher) was also the victim of a violent crime.  Mick gets his right-hand man Frank Levin (William H. Macy) on the case.  The movie really doesn't make any attempt to hide that Roulet probably did this, so the film becomes more about the challenge of being a defense lawyer when you know your client is guilty, but won't admit it.
That's not all Mick has to worry about.  Roulet's crime looks like a crime one of his old clients (Michael Pena) was (probably wrongfully) sent away for several years ago.  Another drug-addled hooker (Katherine Moennig) has information relating to the case.  Mick's snooping has Roulet on edge and threatening the usual: his job, life, and family (here played by the wonderful-with-page Marisa Tomei).  Roulet even ends up trying to pin a murder on Mick, and suddenly he's got a detective (Bryan Cranston) asking questions.  All of this, and Mick has to defend his client in court like nothing is going on.
Which makes this an intriguing movie.  The character of Mick Haller seems to always remain cool, considering options, leaving the more damaging ones off the table unless he really has to go to them.  He's not the most ethical guy, always looking out for himself, but he's easy to root for.  And this is all made possible by McConaughey, a perfect role for him, playing sly and noble at once.  The movie plays out like the probably quickly-consumed novel does, which makes for a fun time at the movies.  It's not a tremendously bold effort, but it sets out to be a certain kind of movie and it achieves that goal.
Comments
Write a comment
You must be logged in to post a comment.