Just Go With It One of the Unfunniest Comedies You'll Be Forced to See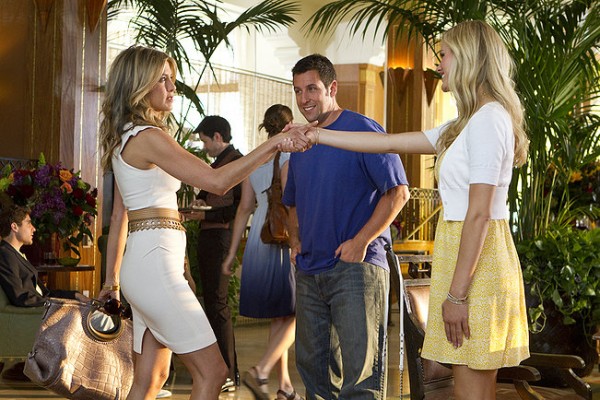 Just Go With It
Directed by Dennis Dugan
Written by Allan Loeb and Timothy Dowling adapted from the 1969 screenplay Cactus Flower by I.A.L. Diamond, adapted from the stage play by Abe Burrows, adapted from the stage play Fleur de Cactus by Pierre Barillet and Jean-Pierre Gredy
Sony, 2011
So here's another round of Valentine's Day for Adam Sandler, previously seen on the romantic holiday in The Wedding Singer (1998) and 50 First Dates (2004), two comedies that are pretty good and do not have Dennis Dugan at the helm.  This is Dugan's 6th film starring Sandler (and a 7th, Jack and Jill, supposedly comes out later this year), and nearly all of them are either questionably funny or downright not funny.  The list includes a Sandler classic in Happy Gilmore, then comes Big Daddy, I Now Pronounce You Chuck and Larry, You Don't Mess With the Zohan, and Grown Ups.
Just Go With It is an incredible mess of unfunny and some slightly funny moments.  It's one of those movies I'm sure could have been wrapped up in mere minutes, but due to the movie comedy rule that everyone is a bad liar, the two hours of hilarity are supposedly achieved through all the ridiculous lies and cover-ups.  It vies for one of the worst romantic comedies ever made, giving How to Lose A Guy in Ten Days a run for its money.
Danny (Sandler) is a man whose heart was broken before getting married way back in 1988, and, drowning his sorrows at a bar, wearing his wedding ring, he picks up and nails a sympathetic and ready-to-go Minka Kelly after a sob story.  So now that's all Danny does.  Goes to bars, wears the ring, sobs about the home life, bangs chicks.  It's the same idea George Costanza had in Seinfeld, only it works.  At a party, he takes the wedding ring off briefly and that's when he runs into Brooklyn Decker, the model that tennis star Andy Roddick married in 2009.  Here she plays a girl named Palmer, and for reasons unknown to me, although Palmer and Danny are complete strangers, they strike up a conversation and start talking like they've known each other for thirty years.  And then have sex on a beach.
Palmer sees Danny's ring in his jeans pocket the next morning, and asks, "What the hell up with the ring, yo?"  And somehow, Danny, with 23 years of lying to bang chicks under his belt, is somehow speechless and can't come up with anything.  He uses the "not mine" excuse, which is something apparently everyone in Hollywood uses whenever they are caught with incriminating items.  And just like real life, that excuse doesn't work, until Danny, with more time to think about it, invents an even crazier and stupider lie to get her back.  He says he's married, but about to get a divorce.  Then Palmer wants the soon-to-be-ex-wife to say so to her face.
Danny is a plastic surgeon with his single mom assistant Katherine (Jennifer Aniston), and he gets she and her kids (Bailee Madison and Griffin Gluck, the best parts of the movie hands down) to go along with the lie by playing his family.  Also, his brother Eddie (Nick Swardson) comes in to play Katherine's lover.  But this is improv, so his lover has to be German.  And an internet sheep salesman.  It sounds funnier written down, but these stupid lies are rarely funny, grasping for anything hoping to get a laugh.  So Palmer is now convinced, and another lie has the entire crew flying out to Hawaii.  Apparently, every time a kid says something is true, Danny can't put his foot down or Palmer will be out the door.
There's a complication, as always, with a character who just happens to be in Hawaii and knows who Katherine really is, and that character is played by Nicole Kidman in a desperate performance.  Kidman plays Devlin, an old college friend who is married to a pretentious dick named Ian Maxtone Jones, played by Dave Matthews.  All of these complications serve to somehow get Danny and Katherine to realize how good they actually are together.
Just Go With It has two writers adapting a play that has been adapted two other times from an original play, and yet, I'm not entirely sure anything about this movie is written, per se.  Just Go With It is supposed to have an improv feel, that's the spirit of the title.  But everyone knows that for the most part, improv is usually terrible.  When it is funny, as it sometimes was with Whose Line Is It Anyway?, it can be very funny.  But when it's bad, as you often could see on the same program, it's nearly unwatchable.  This could have been funnier if it had elevated into a farce, where (believable) lies snowball into a gigantic juggling act.  This is not that movie.  It's an excuse for lots of stupid scenes, like when Eddie has to resuscitate a sheep while Devlin and Katherine try to win a hula dance-off hosted by Dan Patrick.  Yeah, those scenes happen at the same time.
This will clearly rake at the box office this weekend, but you may break up with your date afterward.  Fair warning.
Write a comment
You must be logged in to post a comment.