No Strings Attached Another Head-Scratcher In Ivan Reitman's Puzzling Career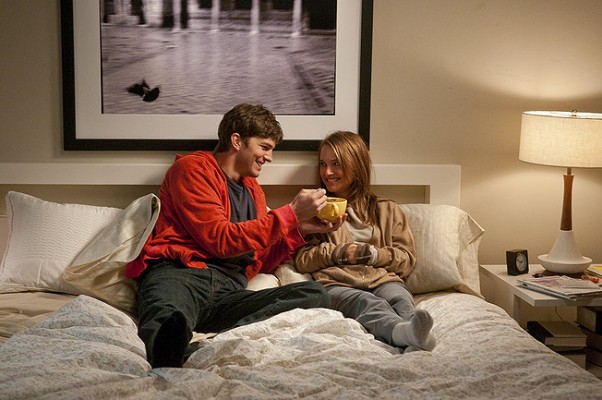 No Strings Attached
Directed by Ivan Reitman
Written by Elizabeth Meriwether from a story by Meriwether and Michael Samonek
Paramount, 2011
Ivan Reitman has not made a good comedy since 1993's Dave.  That's 18 years.  During that time we've seen Junior, Father's Day, Six Days, Seven Nights, Evolution, and My Super Ex-Girlfriend.  This coming from the guy who did Ghostbusters and Stripes.  Of course Reitman has never been a can't-miss director: he's also behind Twins and Kindergarten Cop, for good or ill.  I mean, we still say, "It's NOT a TU-MAH," from time to time.  it's apparent Ivan Reitman and Harold Ramis, who provided Reitman with the screenplays for his best movies, need to jump into a Hot Tub Time Machine of some sort and get back to the eighties.  What has happened to these formerly great comedy producers?  I'll throw David Zucker in there too, for good measure.
No Strings Attached stars Ashton Kutcher, which immediately signals a movie is in trouble.  Kutcher has made a lot of forgettable romantic comedies.  It's his thing.  His fuckable co-star this go-around is Natalie Portman, who I never thought we'd see caught dead in a movie like this.  I mean, she's not the best actress in the world, but this type of movie always seemed like something beneath her.  Whatever.  Kutcher plays Adam, Portman plays Emma.  They have sex in the relationship that is known as "friends with benefits."  Emma doesn't want to be a girlfriend for some reason.  Adam wants to be a boyfriend, but goes along with it, because it's freaking Natalie Portman, man.
A romantic comedy would not be complete without a bunch of "funny" friends.  Emma is a doctor and has a bunch of doctor friends, Patrice (Greenberg's Greta Gerwig), Shira (The Office's Mindy Kaling), and gayboy Guy (Guy Branum).  Adam has Eli (Jake M. Johnson) and Wallace (Chris "Ludacris" Bridges).  Patrice and Eli start dating out of nowhere in the middle of the movie.  Either I was disinterested and didn't see why they got together, or the scene in which they become attracted to each other through the sheer fact that they are the funny friends of the main characters was lost in editing.  Doesn't matter.  Kevin Kline plays Adam's dad, a druggy, washed-up TV actor with an old catchphrase who is dating Adam's ex-girlfriend Vanessa (Ophelia Lovibond), and this is majorly upsetting to Adam.
So we're given one character trait for Emma and one for Adam.  Emma is emotionally distant for reasons that I'd like a movie like this to explore, rather than just be the convenient ticking time bomb for the main characters' inevitable break-up.  She's emotionally distant from the very start, even, when she is portrayed at 14 meeting Adam for the first time.  What the hell happened to this girl to cause her problem?  Eh, who cares.  Adam's main trait is that he's "got a good heart," even though we never really see Adam doing anything special that would warrant such a claim.  We're supposed to root for Adam because he's not the one being a dick here.  Emma is completely and totally being the dick.  Adam makes her a "period mix-tape" when she's experiencing her menses.  Yeah, that's lovely.  So is Gerwig's line, when we find out all the girls are menstruating at the same time, "It's like a crime scene in my pants."  Yes, indeed.  Love is in the air.
"Adding conflict" to this arrangement is that Emma always hangs around d-bag doctor asshole Sam (Ben Lawson) and Adam has this hot chick he works with named Lucy (Lake Bell of course).
This movie is pretty shoddily made, and ultimately not very funny.  There are a lot of likable people in this, but what could they possibly do with this tremendously watered-down When Harry Met Sally? And after Juno, I thought Olivia Thirlby would have an amazing career.  But 4 years later, I'm still seeing her play second-banana characters, and here she plays Emma's "sister who is getting married."  You know, to contrast how much Emma sucks at life.
I didn't expect much from this, and it went below the bar.
Comments
Write a comment
You must be logged in to post a comment.