Unstoppable Is A Tense Man-Versus-Machine Tale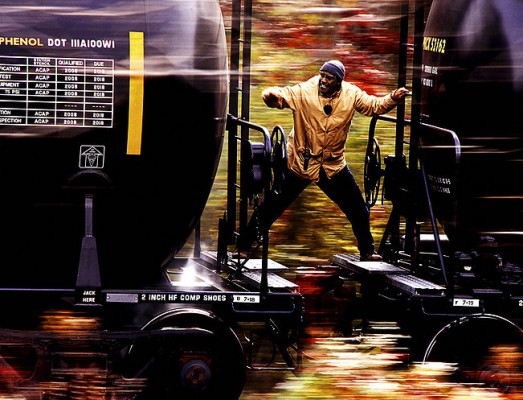 Unstoppable
Directed by Tony Scott
Written by Mark Bomback
Fox, 2010
Tony Scott has had an off-and-on career, but I'd say his movies are more fun than his even more prolific brother Ridley's.  Last year, Scott remade The Taking of Pelham 123, and it wasn't a complete success, but it certainly had a lot of good moments and was worth a watch.  And that's what to expect from most Tony Scott flicks.  He's a popcorn-movie machine, and when he works in the controlled-space action genre, he's at his best, like with Crimson Tide, which along with True Romance are his best movies.  But even in movies like Top Gun, Days of Thunder, The Last Boy Scout, Spy Game, Man on Fire, and Deja Vu, there's always something to enjoy.  Some are guilty pleasures, some are underrated.  The less we say about The Fan and Domino, the better.
Here, Scott re-teams with Denzel Washington for the fifth time.  It's almost like Scott and Spike Lee are competing to make the most movies with Denzel over their careers.  Lee has done 4, and then there's Edward Zwick with 3, and a handful of other guys with 2.  And who wouldn't want to work with Denzel over and over again?  You're never going to get a bad performance, and in the right movie, you have a very good chance of getting a great one.
In this very tightly-directed thriller, Unstoppable concerns a runaway train.  It has 39 cars attached to it going full throttle, and has some cars with extremely toxic and flammable material, and should it hit the town of Stanton, Pennsylvania it is on course to hit a difficult curve that would likely derail the train and plant it right into another hazardous material site.  Working on some pretty basic rail duties is 28-year veteran Frank (Washington) and his young, inexperienced conductor Will (Star Trek's Chris Pine), who find themselves on a collision course with the runaway train, and ultimately look to slow the train down before it hits Stanton.  There's also the matter of a field trip of kids learning railroad safety who happen to be in harm's way.
The extremely active railroad manager Connie (Rosario Dawson) tries everything in her power to get the train slowed down before it gets anywhere near that point, first trying to get her original screw-ups Dewey (Ethan Suplee) and Gilleece (T.J. Miller), along with the chief welder Ned (Lew Temple) to track down what they think is a slow-moving train, only to find that at a certain checkpoint it has already long passed.  Then the train company's executives, represented here by Galvin (Kevin Dunn) try to think of everything that they can do to stop the train and save hundreds of millions of dollars at the cost of a few lives, as is the custom of big-business, especially portrayed in movies (although this is based on a true story that happened in Ohio a few years ago).  Also helping out is railroad inspector Werner (Kevin Corrigan).
But the story belongs to Will and Frank, who have a bit of an uneasy, although basically cordial, beginning relationship between strangers.  They both have family problems, and Frank is wary of a young buck like Will who threatens to take his job.  We get to know the guys pretty well and ultimately, I ended up rooting for them hard by the time they're in harm's way.
The movie lasts for under two hours, you get great and steady work from Washington, Pine, and Dawson, and overall Unstoppable is a nice surprise.  This movie is everything it needs to be: tense and exciting.
Write a comment
You must be logged in to post a comment.