Scott Pilgrim Brings Some Fun Back to the Movies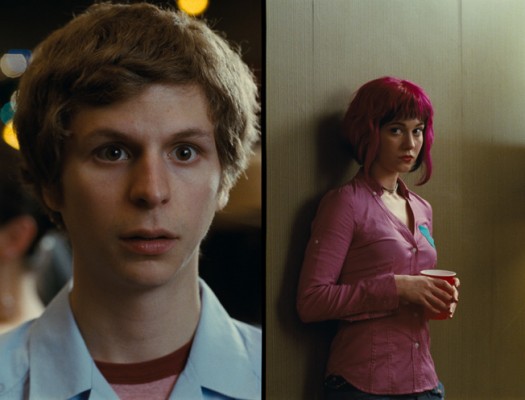 Scott Pilgrim Vs. The World
Directed by Edgar Wright
Written by Wright and Michael Bacall from the graphic novel by Bryan Lee O'Malley
Universal, 2010
Some of the best kicks of the last decade that saw a resurgence in comedy were the films of Edgar Wright.  Shaun of the Dead and Hot Fuzz took a film geek mentality to comedy, a genre that rarely sees anything but generic camera setups, flat lighting, and your typical dialogue and/or sight gags.  Judd Apatow has dominated the comedy scene in the last several years, so much so that many of the recent comedies have emulated his style right down to casting his regular players.  These are good for the most part, but Apatow isn't exactly a gifted director, and he'd be the first to tell you that.  Writing and performing are those comedies' primary strengths.
Wright is definitely talented.  My original review of Hot Fuzz (link above) is not nearly as complimentary of it as I am now.  The editing and camera work in all of his films serve not only to generate excitement but are often funny as well.  It's almost as if Wright is emulating Darren Aronofsky, but has a funnier, nerdier outlook, a method that served Sam Raimi well in his earlier movies.  The best fake trailer in Grindhouse is Wright's Don't, which in two minutes displays his incredible gift at pacing, parodying, and paying homage all at once.
Scott Pilgrim Vs. The World combines the ultimate in nerd culture: video games and comic books, and while we're at it, hipster music.  Scott Pilgrim (Michael Cera) is the bass player in a band called Sex Bob-Omb.  He lives with a gay roommate, Wallace (Kieran Culkin, in a scene-stealing performance) in a studio apartment, sharing a bed with he and any number of flings.  Scott's sister Stacey (Anna Kendrick) is the ever-wise one dispensing advice and insults her brother's way.  Scott was dumped a year ago by Envy Adams (Brie Larson), who left him for another bassist and has just become famous in the new band.  Scott begins dating 17-year-old groupie Knives Chau (Ellen Wong), but nothing really materializes as Scott begins to notice Ramona Flowers (the always fetching Mary Elizabeth Winstead).  It isn't long, even after things are plenty awkward, that Ramona and Scott start going out.
This presents a problem because Scott must defeat Ramona's seven evil exes in order to go out with her.  They include: Matthew Patel (Satya Bhabha), famous actor Lucas Lee (Chris Evans), the aforementioned bassist, Todd Ingram (Brandon Routh), Roxanne (Mae Whitman), Japanese spin-meisters Kyle and Ken Katayanagi (Keita Saitou, Shota Saito), and the ringleader, Gideon (Jason Schwartzman).  Scott suddenly gets video game style powers in these battles, and has to use brain and brawn to escape.  Each victory is met with "points" and the vanquished leave behind coins.
All of this is done with the verve Wright brought to Shaun of the Dead and Hot Fuzz, and it's just all-around fun and practically always interesting.  Really, one comes out of this movie taking away the giddy editing job the team of Jonathan Amos and Paul Machliss do for Wright here.  Michael Cera does his usual nice job, but Kieran Culkin might be who I remember most.  His character is one of the most likable jerks you'll ever see, and it's a different take on a gay character, kind of like Andy Samberg's role in I Love You, Man, but with more dimensions.  There's also a welcome appearance from Aubrey Plaza (Funny People, TV's Parks and Recreation) and hopefully one day we'll have a movie that revolves around her.
After this and Kick-Ass, we've had a couple of good, interesting takes on the comic book genre.  We definitely needed it after the travesty of Iron Man 2.
Write a comment
You must be logged in to post a comment.