Ghost Writer A Refreshing Grown-Up Mystery from a Legend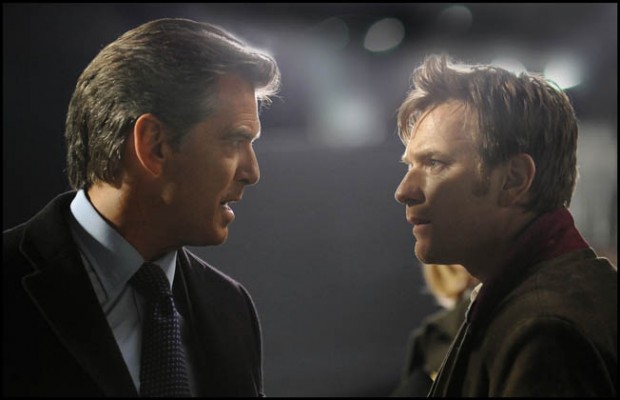 The Ghost Writer
Directed by Roman Polanski
Written by Polanski and Robert Harris from his novel The Ghost
Summit, 2010
One of the few directors to emerge from the sixties and seventies who actually still makes a decent movie now and again, Roman Polanski, a man whose life would make an unbelievable movie if ever produced, has probably benefited professionally from his exile back in 1978.  Although Polanski only had made a couple of films in America prior to his legal troubles, who knows how his career would have been had Hollywood swallowed him whole and turned him into another William Friedkin, or Francis Ford Coppola, legends who just can't seem to make a good film anymore.
In The Ghost Writer, The Ghost (Ewan McGregor) is hired to rewrite a manuscript for an "autobiography" by British Prime Minister Adam Lang (Pierce Brosnan).  The previous ghost writer turned up dead, his car abandoned on the Martha's Vineyard ferry.  The existing manuscript is kept in a beach house on Martha's Vineyard, well-guarded by Lang's team, led by Amelia Bly (Kim Cattrall).  The Ghost (his name is never revealed) must do the rewrite manually, because the flash drive on which the book is kept cannot be accessed.  He starts looking over the old notes from his predecessor, has gaps filled by Lang's wife Ruth (Olivia Williams), and Lang himself to provide stories that will flesh out the book.  Problem is, much of what he's being told and reads contradicts each other.
Lang is under fire from a political rival, Robert Rycart (Robert Pugh), who is accusing him of handing terrorists over to the CIA, who in turn tortured them.  Rycart wants to bring Lang back to the UK to put him on trial, but as long as Lang stays in the US he can be shielded from International Court.  Lang and his political entourage leave The Ghost alone with Ruth while they try to perform damage control.  This gives The Ghost unprecedented access to the book, his predecessor's notes, and his freedom to move in and out of the beach house.
The Ghost begins to learn Lang's true political aspirations by digging deeper, and finding out whether his predecessor's death was an accident or not.  Small turns from Tom Wilkinson and Eli Wallach get him closer to his goal, and all the while, Polanski delivers a solid fact-finding mission during a satisfying mystery that never quite hits greatness, but is so much better than most of its genre, especially what we get nowadays.  One of the best aspects of the film is its score from Alexandre Desplat, an instant classic that complements the mystery perfectly.
The Ghost Writer starts off a little slow but then picks up once it establishes all the characters and Lang's political issue, so that The Ghost can officially start digging.  But more importantly, it's not a movie made so that kids and frat boys will like it.  It's rare you get a film that is adult in how it handles everything.  It's definitely worth a look.
Write a comment
You must be logged in to post a comment.