Extraordinary Measures Your Basic Made-For-TV Movie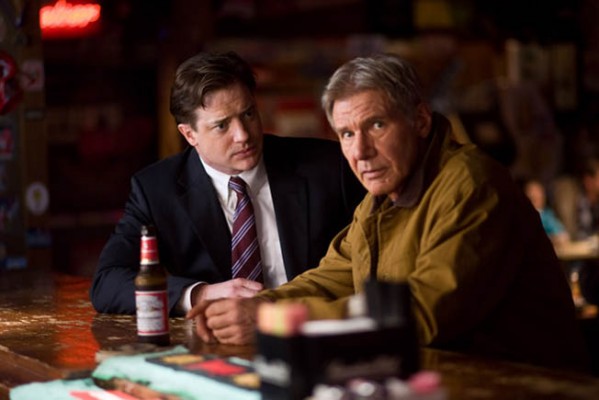 Extraordinary Measures
Directed by Tom Vaughan
Written by Robert Nelson Jacobs based on the book The Cure: How a Father Raised $100 Million - And Bucked the Medical Establishment - in a Quest to Save His Children by Geeta Anand
CBS Films, 2010
The matter of perspective in Extraordinary Measures makes it your typical Lifetime movie and further illustrates how far Harrison Ford has fallen in his career.  The film isn't bad, it's just annoying in it's lack of big-screen strength, something that quite possibly could have been rectified had the filmmakers thought more deeply about this material and how it plays in a movie theatre.  We go to the movies to see things we can't see at home, a gap that has nearly been sealed and probably most of the reason why Avatar is going to end up being the highest grossing film of all time.  When you sell a movie like this into movie theatres, where you have to pay for a ticket, you're being dishonest.
John Crowley (Brendan Fraser) and his wife Aileen (Keri Russell) have two children with Pompe disease, a genetic disorder where the body cannot break down glycogen, causes abnormal growth in organs, and is usually fatal by the age of 9.  They have nurses working around the clock and doctors telling them there is no cure.  So John finds a University of Nebraska scientist by the name of Robert Stonehill (Ford), who has a groundbreaking theory in how to treat the disease.  The problem is, Stonehill doesn't get enough money to put his theory to work, and when it comes time to try to sell his idea, he's shunned for not having sold any of his ideas before.  Also, he's a bit of a curmudgeon and a tad crazy.
John works hard to get donations from friends and friends of friends, all to pay Stonehill to get started.  But they still need venture capital to get this thing going.  John's ability to compromise with the money men clashes with Stonehill's belief in not compromising whatsoever.  Eventually, Stonehill has to work on his enzyme with a number of conditions he didn't want to sign up for but is reluctantly willing to overlook just to prove his theory is right.  That doesn't mean there aren't a lot more clashes to be had, and a race against the clock, and the idea that John might have to make a compromise that could endanger his children being cured.
This movie would have been a lot more cinematic had Stonehill been the focus instead of the Crowleys, and John's relationship with Stonehill.  Had this been from Stonehill's perspective, this movie would have been a lot more interesting.  He's the character you would want to pay to see, he's the guy you want to know more about, he's the guy who could drive a two-hour disease drama out of TV-land and into a fine character study.  Eccentric, bad-tempered, smart, unflinching in his views, Stonehill would have been the better choice.  Instead, Stonehill is seen from John's point-of-view, something that probably wouldn't have happened had this movie taken place 15 years ago.  The idea that Harrison Ford is no longer the guy who headlines a movie is a bit sad, probably inevitable, but wrong in this case.
I know that the book is about John Crowley's amazing journey from helpless parent to proactive man-on-a-mission, but his story could have still been told with Stonehill's eyes and it would have taken some of the pressure off Brendan Fraser, who has never been a guy you'd say could carry a film like this.  Fraser often looks like a guy about to drift off to sleep when he's giving Stonehill some bad news.  I'm not a Fraser-basher, he's just not the person I was interested in.  And when the perspective is the grieving parent, movies take on an awful energy, where every time you see a sick kid you just want to change the channel and find something else until the scene passes.  It's a mistake to dwell on illness and dying; it's why the previous entry in the child sickness canon, My Sister's Keeper, takes on the description of "depressing" instead of being offered a genuine "good" or "bad" opinion.
As to that, Extraordinary Measures is a bit better of a film than My Sister's Keeper, so if you somehow liked that movie, then you'll probably like this one a lot more.  It's just not for me.
Write a comment
You must be logged in to post a comment.