The Princess and the Frog Returns Hand-Drawn Animation from the Darkness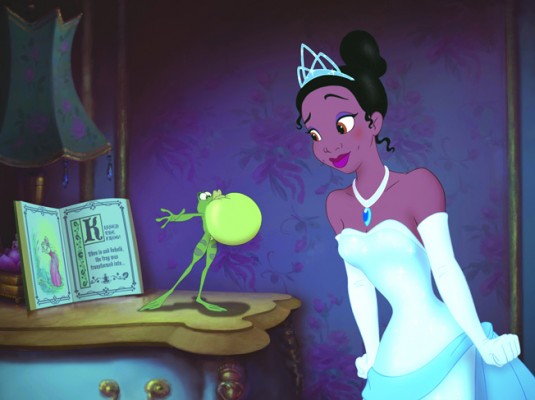 The Princess and the Frog
Directed by Ron Clements and John Musker
Written by Clements, Musker, and Rob Edwards from a story by Clements, Greg Erb, Jason Oremland, and Don Hall
Disney, 2009
20 years ago Disney hoped that directors Clements and Musker could revive the animation department that produced Bambi and Snow White and the Seven Dwarfs and a large roster of other classics I could spend lots of time detailing.  Disney had not made a beloved animated film in years, you could argue, since 1967's The Jungle Book.  Clements and Musker made The Little Mermaid, which would launch Disney back into prominence for another 10 years.  In the middle of that, Disney picked up Pixar to do computer animated films, and it would slowly kill the hand-drawn animation that the company had worked so hard to get back to the forefront.
Of course, the problem was not that hand-drawn animation was bad or inherently inferior or that audiences "simply wanted to watch computer animation."  Yeah, this is the dumb discussion taking place earlier this decade, when movies like Sinbad, The Road to El Dorado, Brother Bear, et al were futilely entering multiplexes and crashing soon afterwords.  What Pixar had always preached (they have it plastered all over their offices) is "Story First."  These hand-drawn movies weren't getting good stories to go along with them, and of course no one wanted to watch.  Unfortunately, because the computer-animated films were getting the stories and handily beating their hand-drawn counterparts, it looked like the medium was under fire.
Now, one of the founders of Pixar, John Lasseter, is over all things animated at Disney.  Here's the first hand-drawn film under his watch, and The Princess and the Frog delivers that good old school animation.  The hand-drawn medium is so different from the 3D stuff, you could argue it's a completely different genre.  There are sequences in this film that you will likely never see in a computer-generated film, and that's why hand-drawn needs to stay alive.
In The Princess and the Frog, a young black girl named Tiana (Anika Noni Rose) dreams to one day run her own restaurant in New Orleans.  Set in the teens of the 1900s, Tiana obviously has a ton of obstacles in her way.  She works tirelessly at another restaurant, where her beignets bring in tons of customers.  She is friends with a rich white girl named Charlotte (Jennifer Cody), whose father Big Daddy La Bouff (John Goodman) is a friend of Tiana's family.  When Prince Naveen (Bruno Campos, who is excellent) visits New Orleans, he brings all the females of the city calling, including Charlotte, who throws a bunch of money at Tiana to make "man-catching" beignets for her to woo the Prince.  The money would be enough to buy Tiana the restaurant, but the greedy realtors receive a better offer, which she needs to match in three days.  Back to the drawing board.
Prince Naveen is visiting New Orleans with his handler, Lawrence (Peter Bartlett), and has somewhat of a secret.  His wealthy parents in Maldonia have cut him off and require him to find a bride of whom they approve so that he can enjoy spending riches again.  Dr. Facilier (Keith David, who is perfect) a black magic/voodoo specialist, shows Naveen and Lawrence deceptive futures, distracting them enough to turn Naveen into a frog and Lawrence into Naveen, provided Lawrence keeps a tiny mask serving as a vial full of Naveen's blood around his neck.  Facilier, of course, hopes to be able to capitalize on this transformation, and keep the evil gods he worships content.
Naveen the frog runs into Tiana thinking she's a princess, who after lots of coping to terms with a talking frog, kisses him like in the fairy tale, only she turns into a frog instead.  Now, the two frogs have to find a way to get back to their old selves, and it takes them on a trip through the bayou dodging all sorts of natural dangers, and eventually, Facilier's army of shadows.  They team up with a benign alligator named Louis (Michael-Leon Wooley, who's great) who just wants to blow his trumpet in a jazz band, and a cajun firely by the name of Ray (Jim Cummings, also great) who is in love with a woman named Evangeline; the star in the sky known as The Evening Star that everyone makes wishes upon.  Naveen and Tiana start falling in love.
The film is filled with great classic Disney animated musical numbers, something they sort of got away from over the past decade and the later part of the nineties.  There is great humor throughout, awesome voice characterizations, and just enough darkness to keep things honest.  Dr. Facilier is calling on some dark spirits in this movie that would scare off many other Disney villains, and I found his presence to be the one that stuck with me the most, especially with Keith David's distinctive voice.  I also found the backdrop of New Orleans to be just right.  The movie has a sense of place that just feels right.
This is a new classic.  Hope that Disney can continue to bring these types of hand-drawn features again.  With John Lasseter ruling the roost, I have a good feeling about that.
Write a comment
You must be logged in to post a comment.