Invictus Is Solid, But A Hollow Experience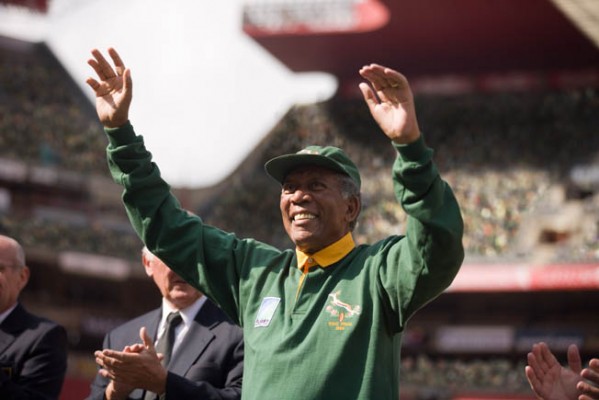 Invictus
Directed by Clint Eastwood
Written by Anthony Peckham based on the book Playing the Enemy: Nelson Mandela and the Game that Made a Nation by John Carlin
Warner Bros., 2009
Clint Eastwood directing, Morgan Freeman playing Nelson Mandela, Matt Damon along in tow?  Sounds like a sure Oscar picture, doesn't it?  Well, I'm pretty sure that's how most everyone made up their mind before they even saw the movie.  All Eastwood has to do is deliver a product that doesn't completely drop the ball, and the Academy members can't stop paying homage to their grizzled movie captain.  OK, so that's not completely true…last year Eastwood had two movies up for grabs, both got decent reviews, and he could only muster 3 Oscar nominations, all for Changeling, and none for him or for Best Picture.
Still, the freight train of acceptance for this movie to be a front-runner in this year's Best Picture race is a bit puzzling.  But that's what happens in a very down year for quality and the Academy decides to make 10 movies potential Best Picture nominees.  Better years weep for that kind of consideration.
In Invictus, Nelson Mandela (Freeman) has just been elected President of South Africa, and preaches a different way of thinking in the wake of apartheid.  While many whites begin to fear that their way of life is going to change and that it will be open season for revenge for blacks, Mandela wants to turn the other cheek, despite having been imprisoned for 27 years for actions he took in trying to end apartheid.  One of the traditions under fire is the rugby team, named the Springboks.  Their colors and their name represent a time in which blacks suffered oppression, and with new found power are looking to change it.  Mandela argues that forgiveness is the best way, and that taking away the rugby team's traditions would cause a furor that would keep the hate flowing.
Mandela also knows that the team has to get good, and sweep the nation, mainly by winning the World Cup, a tall order.  He calls on star player Francois Pienaar (Damon) to realize how important his team is to the country, and suggests the players start not only practicing harder but also go around the country and hold clinics in poor areas, becoming ambassadors in a sense.  Luckily, there's at least one black player on the team and he's enormously popular, so going to these areas is less of a challenge.
Thus, the thrust of the story is that while Mandela has a lot of other things on his plate, he's championing the national rugby team to win the Cup.  And this is fun and all, but it seems like so many things are missing.  Like, for instance, the idea that Mandela was so deeply focused on rugby that he practically neglected other areas of leadership.  The movie shows him meeting with other countries, but distracted.  Perhaps he was, but the film doesn't seem to be claiming authority on this subject.  I still would have liked to have seen Mandela being a leader in other ways, showing competence in other affairs.  The finale is also botched, filled with lots of slow motion rugby action, including in a spot at the very end of the game that just seems out of place.  Eastwood also cuts around to various spots in South Africa where everyone is watching the game, giving only one of those cutaways any character and rendering the others a distraction.
Also, while I have a pretty good sense of rugby's rules, the movie doesn't do a very good job of explaining them, and it can be a little confusing.  You might be able to guess a few things due to rudimentary knowledge of American football, but other than that you're on your own.
This isn't a bad movie, I just expect better.
Write a comment
You must be logged in to post a comment.