Precious Is Filled With Great Performances From Unexpected Places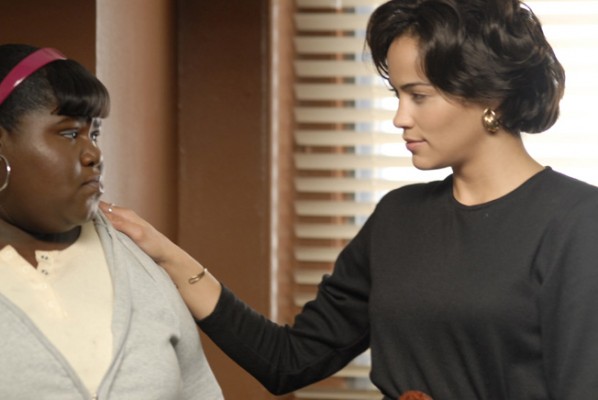 Precious
Directed by Lee Daniels
Writen by Geoffrey Fletcher based on the novel Push by Sapphire
Lionsgate, 2009
Precious seems to be following the same pattern of last year's Slumdog Millionaire, in which a movie comes out at the end of the year and gains a whole bunch of media steam to where it will basically go unchallenged at the Oscars.  Honestly, what movie looms over the horizon that is going to take control of a race in which there will be ten Best Picture nominees and the Academy is going to have a difficult time coming up with even five worthy ones?  All of the various critical darlings of the year like The Hurt Locker and In the Loop have lost a lot of steam over the few months that they disappeared in theatres, and Precious has the backing of Oprah Winfrey and Tyler Perry.
First things first, I don't think Precious should be in the discussion for a "Best Picture," but I wouldn't mind seeing almost everyone who acts in it get a nomination, which would crowd up the Best Actress and Best Supporting Actress field with one movie.
The story: Precious (Gabourey Sidibe) is an overweight sixteen-year-old girl from Harlem, pregnant with her second child by her own father, and kicked out of her public school.  Her mother Mary (Mo'Nique) is verbally and physically abusive, due to some insane notion that Precious "took her man."  Precious is sent to an alternative school, Each One Teach One, which prepares troubled kids for their GEDs.  Her teacher there is Blu Rain (Paula Patton), one of those incredibly patient and caring surrogate mother types who try to help those who seem destined to fail.  All the while, Precious attempts to go on welfare at the beckoning of her mother, and has to speak with a human services worker, Mrs. Weiss (Mariah Carey, basically telling us that Glitter never happened) about all of her various problems.
Precious has to dodge attacks from her mother and fight the notion she is worthless.  As a movie, this can be difficult to watch, with no discernible plot, it's a series of awful events and dramatic Oscar moments.  While that comes off sounding a bit cynical, I will say that the acting in this is genuine, rather than much of the performances you normally see in big epics which are obviously propped up for the moment that they are shown on the Oscar telecast.  These actresses go a long way from their previous work, starting with:
Mo'Nique.  I had last seen her in a very bad movie called Phat Girlz and in a bit part for the Broken Lizard movie Beerfest.  She's absolutely terrifying in this movie; a character that we might have all run across over the years, with twisted logic and a fatal inability to see things in context.  This is the best performance of her career, easily.
Paula Patton.  Patton is uncommonly gorgeous, and my previous experience with her was with the Tony Scott thriller Deja Vu with Denzel Washington and the reporter from the Kevin Costner flick Swing Vote.  She was definitely on the path to playing very pretty bit parts the rest of her career, but this performance will likely vault her status.
Mariah Carey.  The one who disappears the most, playing an un-glamorous social worker with a grizzled New York accent.  We've seen Carey in the full diva mode, looking pretty dynamite showing off those looks along with her voice.  I tell you now, looking weary and un-made-up, Carey looks sexier in this movie than in any of those moments. Carey has been trying to shake that Glitter movie for awhile, and this one shows she's got acting ability.  She's downright amazing in this.
Which brings me to Gabourey Sidibe, our lead actress making her debut.  She expresses so much without saying anything, and when she does say something, you can feel the pain of years of abuse.  Sidibe is a breakout here, but due to the usual prejudices in Hollywood, we're not likely to see lots of Sidibe (or Mo'Nique) playing in lots of (good) movies over the next few years because there aren't that many great roles for women, not to mention overweight black women, in that town.
If you're a fan of great performances, regardless of their package, then you will love Precious.  It's hard to recommend the movie, since it's not terribly exciting and is downbeat.  I recommend it for every one who needs a good cry.
Write a comment
You must be logged in to post a comment.