The Men Who Stare At Goats is a Pointless, Occasionally Funny Adventure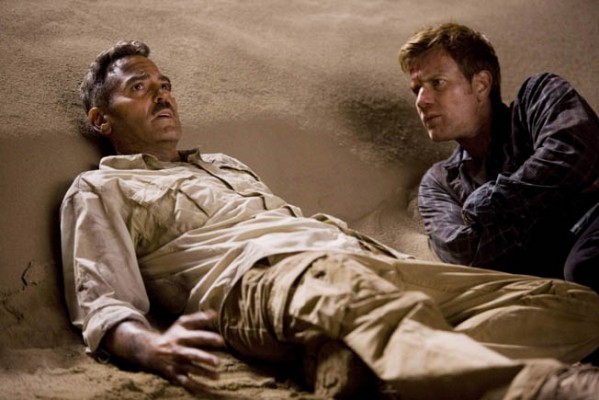 The Men Who Stare At Goats
Directed by Grant Heslov
Written by Peter Straughan from the book by Jon Ronson
Overture, 2009
It's no doubt that George Clooney is drawn to quirky comedy, and that's why we've seen him in a few Coen Brothers films over the years, like O Brother Where Art Thou? and Burn After Reading. In theatres now and soon to be wide is Wes Anderson's stop-motion animated film Fantastic Mr. Fox, which also displays this sensibility.  We've seen him direct Confessions of a Dangerous Mind, which was the (was it?) true story of TV personality Chuck Barris and followed that style of normal-guy-weird-situation that has become his comedy trademark aside from the Ocean's series.  Taking a look at this guy's resume…it's amazing how many different kinds of movies Clooney has been in over the years.  I think it might be more varied than any one movie star.  But this one is familiar. and you know what you're getting into long before you buy a ticket.
Goats follows reporter Bob Wilton (Ewan McGregor), who interviews a man who believes he has psychic powers (Stephen Root), developed by his time in the army.  Wilton's reporting leads him to find Lyn Cassady (Clooney) a man who is in the top secret program (or is he?) to make soldiers "Jedi warriors."  Lyn needs to find his mission, using his powers, and it will take him through war-torn Iraq to ultimately find it.  Meanwhile, Lyn and Bob get into a bunch of trouble, because, you know, it's Iraq.
The main thrust of the story, the very little there is of it, concerns the program, told in flashback.  This is where you realize that the movie would have been a lot better just focusing on the program itself, and not this Bob's adventure with Lyn.  When the movie flashbacks to the program, it is at its most entertaining.  It began with Bill Django (Jeff Bridges, back in a sort of "Dude" role as in Big Lebowski), who left Vietnam surviving a bullet wound and getting caught into the hippie movement of the seventies, learning peace and love, thinking you could get a soldier to spread peace with his mind rather than guns.  So, apparently tons of taxpayer money goes to this program, and some of the early recruits are Lyn and the movie's main villain, Larry Hooper (Kevin Spacey).  Stephen Lang, who outright stole Public Enemies this summer, plays Brigadier General Dean Hopgood, a man who truly believes in the program, and in Dr. Strangelove parlance is able to convince the army to implement it based on the fact that the Russians already think the Americans are doing it and have started their own program, so therefore, we have to keep up.
As I said before, this movie would have been better to stick with the program itself.  It's the most interesting part of the story, the part that offers the most laughs, and it is relegated to flashbacks.  The adventure Lyn and Bob get into is amusing, and I also think it might offer the best laugh of them all when Lyn is telling a story about killing goats with his mind, Bob makes a comment that is ultra-stupid, and Lyn continues after a short pause like nothing stupid was said.  Beyond that, I just wish we could have had a Hippie Full Metal Jacket, where we see Jedi Training Camp for Humans, the trials, tribulations, and utter stupidity of it all.
It's not a bad film, it's just a bit disappointing.
Write a comment
You must be logged in to post a comment.