Whip It Is Good Old-Fashioned Fun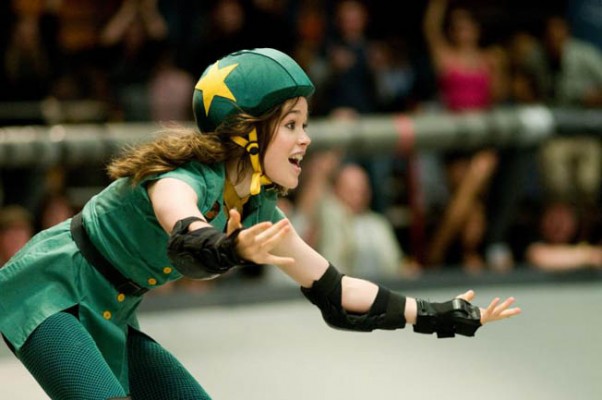 Whip It
Directed by Drew Barrymore
Written by Shauna Cross from her novel
Fox Searchlight, 2009
This is the type of movie that I can just enjoy and not worry about, unlike Transformers.  Drew Barrymore makes her directorial debut, and it is wonderfully unpretentious, unlike many actors who decide to go behind the camera for the first time.
In Whip It, a Texas beauty pageant regular, Bliss Cavendar (Ellen Page), has begun to tire of the facade of the competitions and is looking for another calling.  Unfortunately, her mother (Marcia Gay Harden) lives vicariously through these pageants and believes in their power to make a woman out of her daughter, teaching her grace and respect.  Her dad (Daniel Stern, who's been around, but hasn't been seen in awhile) is a sports guy who just goes with the flow, but seems secretly shamed that his neighbor has boys who are on the football team and has signs touting the fact in the yard.  Bliss and her best friend Pash (Arrested Development's Alia Shawkat) watch a roller derby event in Austin and Bliss becomes hooked, wanting to be part of a team.  Only problem: she needs to be 18, and it could conflict with her pageant duties, and mom would be most displeased if it were found out.  No worries for now, she pretends like she's 22 and tries out for a team, making it based on her speed.
It's a pretty violent sport.  Her team is made up of the likes of "Rosa Sparks" (Eve), "Bloody Holly" (Death Proof's Zoe Bell), "Maggie Mayhem" (Kristen Wiig), a couple of bruisers known as the Manson Sisters (Kristen Adolfi, Rachel Piplica), and "Smashley Simpson" (Barrymore), who definitely takes all the pain personally and goes after people to bust heads.  They're coached by the hapless Razor (Andrew Wilson, Owen and Luke's oldest brother), who feels like if they would just learn some basic plays, they could win some of these things.  The main villain in all these matches is Iron Maven (Juliette Lewis) who has a chip on her shoulder about growing old and is threatened by the new star of the league.
The usual happens: Bliss helps her team rise in the standings, she meets dreamboat guy Oliver (Landon Pigg) and experiences her first love, and of course the championship coincides with a huge beauty pageant on the same day.  It's very light comedy with tons of cliches, and it's harmless and fun.  Barrymore has a few things to learn (like: there's a meaningless exchange played between the Manson Sisters early in the movie and it should have probably just been some audible chatter in the background, but we see the scene like it's some major part of the movie), but considering that her goals aren't all that lofty, seeing a whole bunch of girls beat the crap out of each other is pretty fun.
Write a comment
You must be logged in to post a comment.