Movie Review: A Guide to Recognizing Your Saints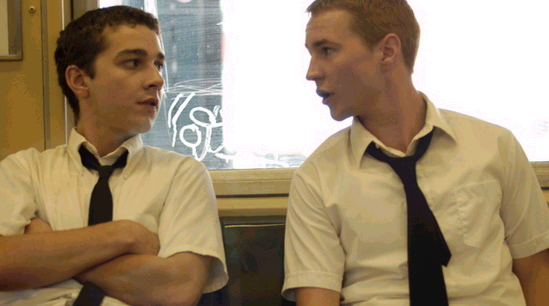 First Look Media
Sometimes a movie tries really hard and does lots of things right, and ends up falling short. In this case, we have a movie with a good amount of power, an attempt to experiment slightly with narrative, but a few details keep this from being great.
It's Astoria, Queens, in the mid-eighties. Dito (Shia LaBeouf) is friends with a ragtag group of kids led by the fierce Antonio (Channing Tatum), goofy Guiseppe (Adam Scarimbolo), Nerf (Peter Anthony Tambakis), his girl Laurie (Melonie Diaz) and a couple of other girls. Dito lives with his father Monty (Chazz Palminteri) and mother Flori (Dianne Wiest), and things at home aren't exactly great, but they're mostly all right compared to most, especially compared to Antonio's life with an abusive father. Dito dreams of getting out of Queens, but has felt obligated to stay at home with his parents and his loyal friends. When he meets Mike (Martin Compston), a Scottish transfer, they talk about forming a band and moving to L.A., causing some friction. There's also the matter of a neighborhood tough by the name of Reaper (Michael Rivera) of whom the group has become antagonized and is leading Dito and especially Antonio to a major life-changing event.
The movie is not really a solid story like I described, it's more a loose thread that forces the realization that Dito is loved by everyone; and how his decisions, especially those that address the issue of his leaving the group and his family, put a tremendous strain on those around him. The movie is ultimately about loyalty.
Occasionally, the movie zips to the future where Dito (Robert Downey, Jr.) is coming back home after a 20-year hiatus. This is where he has to come to closure for how he left, and left under bad circumstances, especially with his parents. He runs into a couple of his old crew, including Laurie (Rosario Dawson), who like the days of old is Dito's center, only wiser.
My main problem with the movie is that I never saw Dito as a character that would have this much effect on everyone. He's a decent enough guy, but he's not special in this way that the movie wants him to be. This presents a problem for many of the powerful scenes in the movie, which includes Palminteri's great performance. Dito doesn't stand for anything, he's not a leader, he's not any kind of glue.
Combine that with the OK story, then you have a rather average flick, one that depends on performance to sell it. And everyone is good here. LaBeouf I've always wanted to see break out but this isn't the vehicle. Tatum, who became a new teen heartthrob over the summer with Step Up, is very good and is the most memorable of the young group.
This is a decent movie, but you're likely to find better choices at a theatre housing this flick.
Comments
Write a comment
You must be logged in to post a comment.