I Love You, Man Continues Comedy's Winning Streak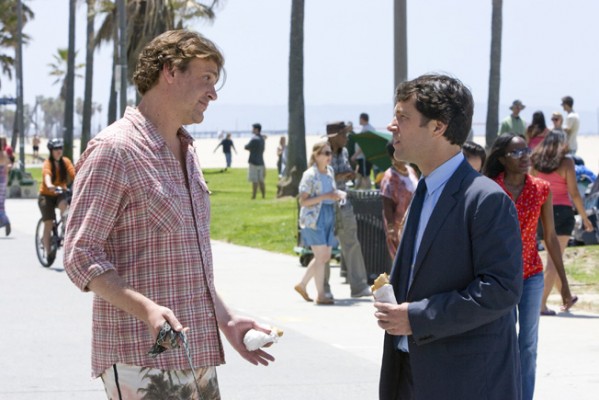 I Love You, Man
Directed by John Hamburg
Written by Larry Levin and Hamburg
Paramount/Dreamworks, 2009
Very quickly, Judd Apatow became a brand a couple of years ago to the point that now, he doesn't even have to be a part of the production to sell the formula for what has been a golden age in comedy filmmaking.  Last year's surprise hit Role Models and the Kevin Smith flick Zack and Miri Make A Porno had all the elements of Apatow without him being there.  This brand is instantly recognizable through R-rated dialogue and the use of multiple familiar funny faces.  Jason Segel and Paul Rudd have been in scores of Apatow productions, but this isn't one of them.  In fact, legendary producer/director Ivan Reitman is on this ticket.
Director John Hamburg has a bit of Apatow experience through directing episodes of Undeclared, but that's it.  Writer Larry Levin has been getting by with Dr. Dolittle scripts and a few TV episodes.  And yet, you'd still swear that behind the camera, Judd Apatow is somewhere snickering.
In this actually refreshing take/spin on the romantic comedy, a genre that has a difficult time standing out, I Love You, Man focuses on real estate agent Peter Klaven (Rudd) has just proposed to his girlfriend, the lovely Zooey (Rashida Jones, who needs to work a lot more).  Zooey immediately tells her friends Hailey (Sarah Burns) and Denise (Jaime Pressly), who later ponder why Peter doesn't have any male best friends, warning Zooey he might get too clingy down the road.  Peter's family wonders the same thing.  His dad Oswald (J.K. Simmons), mother Joyce (Jane Curtin), and Peter's gay brother Robbie (Andy Samberg), all encourage him to go out and find somebody so that he can have a best man at his wedding.
So Peter starts getting "set up" with potential best friends, all of them not right for him, much like a dating scenario.  One of the men he gets set up with is Doug (Thomas Lennon), who thinks it's a date.  And another is Denise's husband Barry (Jon Favreau), who is a humorless jerk.  Then Peter meets Sydney Fife (Segel) during an open house trying to sell Lou Ferrigno's mansion.  Fife is directly honest and has acute observations about people that Peter finds endearing, leading to Peter calling Sydney on a series of "man-dates."  At first, Zooey thinks it's great that Peter has found a friend, but eventually the two seem to go overboard…getting all "douchey" when around each other, especially when their favorite band Rush is involved.
The interaction between Rudd and Segel is a wonderful thing.  Rudd is hilariously awkward, unable to put coherent sentences together many times trying to be cool with a new friend.  Segel, who has been a part of some great comedies over the past few years, starting with TV's brilliant How I Met Your Mother and two funny movies, Knocked Up and Forgetting Sarah Marshall, honestly begs the question as to why comedy and its actors are overlooked come Oscar time.  Both performances are as real, touching, and resonant as any dramatic one.  And they aren't the only performers who are memorable.  In the smaller roles right down to the cameos, everyone is absolutely spot-on fantastic in this.  I would only say Rashida Jones gets a bit glossed over on the character department only because she has to play "the girlfriend," but she comes around fairly well by the end.
I Love You, Man is brilliant, kicking off a year in which many of the big comedies look promising.  The bar has been set pretty high.
Write a comment
You must be logged in to post a comment.