Role Models Surprisingly One of the Best Comedies This Year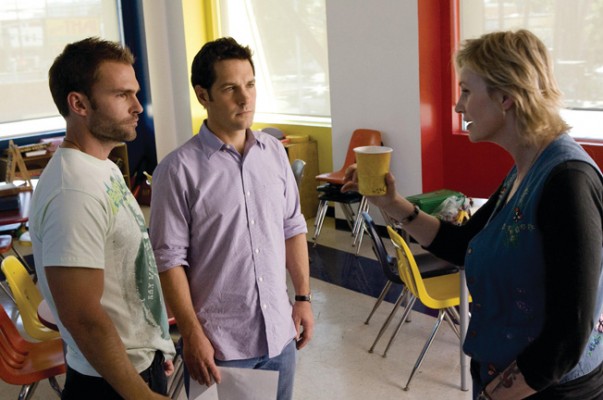 Role Models
Directed by David Wain
Written by Wain, Paul Rudd, Ken Marino, and Timothy Dowling from a story by Dowling and W. Blake Herron
Universal, 2008
David Wain is one of those guys, much like Judd Apatow, who has experienced a lot of failed TV projects and has never quite made it into the mainstream.  Wain was on a funny cult sketch TV program known as The State, which disappeared nearly as fast as it arrived.  Since then, you might have seen him on such things as Comedy Central's Stella, or heard of him through his most well-known movie to date, Wet Hot American Summer.  Wain makes a cameo in this movie, and has one of the funniest lines you'll ever hear.
Wain is pulling off, in some respects, what Kevin Smith is trying to do with Zack and Miri Make A Porno, by placing recognizable Apatowian faces in his latest movie: he always uses Rudd, but here are Apatow alums Elizabeth Banks, Christopher Mintz-Plasse, and Ken Jeong all populating the movie.  Perhaps I'm reading a bit much into it.  After all, funny people tend to gravitate towards each other.  We used to see the SNL members team up with SCTV people, or with the Monty Python troupe.  But it's interesting to see so many people from other successful movies, those brought together by mainly one guy, starting to appear in other movies with no affiliation with Apatow at all.
Yes, I was quite pleasantly surprised at how well-done Role Models is.  Looking sort of like an obnoxious guys-do-bad-things flick, the film comes off with an unexpected warmth and depth.  Friends Danny (Paul Rudd) and Wheeler (Seann William Scott) make ends meet by selling an energy drink, Minotaur.  They make pitches at high schools to avoid drugs and drink Minotaur instead, and Wheeler even dresses in a Minotaur costume.  Danny is a bit of an elitist, hating on cliche-ridden phrases and idle speech, and he pisses off his lawyer girlfriend Beth (Elizabeth Banks, who I love to see every weekend), who breaks up with him.  Danny goes off the deep end and gets caught up in some disorderly conduct, brings Wheeler into the mess, and thus they face jail time unless they do community service.
The community service is spending time with unpopular kids at a place called Sturdy Wings, led by the overly-suspicious Gayle Sweeny (the always terrific Jane Lynch).  Wheeler gets foul-mouthed problem child Ronnie (Bobb'e J. Thompson) while Danny gets uber-nerd Augie (Christopher Mintz-Plasse, finding some range past the dangerous McLovin typecasting), who lives his life to play LAIRE, a social fantasy role-playing game with costumes and fake swords and battles and everything.  As is to be expected, Danny and Wheeler have a difficult time trying to make this seem worthwhile, but then they grow to like the kids.  Of course, they being the way they are, they manage to screw it up before it's time for redemption.
This film is funny throughout, especially when it focuses on LAIRE, pulling off the neat trick of lightly mocking but remaining respectful of its characters (Apatow regular Ken Jeong gets some nice laughs as the "King" of LAIRE).  Seann WIlliam Scott is at his very best here, possibly shaking off his Stifler persona that put him on the radar nearly a decade ago and has landed him a lot of crap since.  Paul Rudd is almost always funny.   Taking respectable measures in trying to run away with this is Bobb'e J. Thompson, pulling off a kid character that is hilarious by being obnoxious but not overly annoyingly obnoxious.  The fact that there are so many funny people in this movie carries it to the finish line in good order.  I couldn't think of one thing that bothered me about the movie.  It's a definite treat.
Write a comment
You must be logged in to post a comment.