Pineapple Express Another Winner from Team Apatow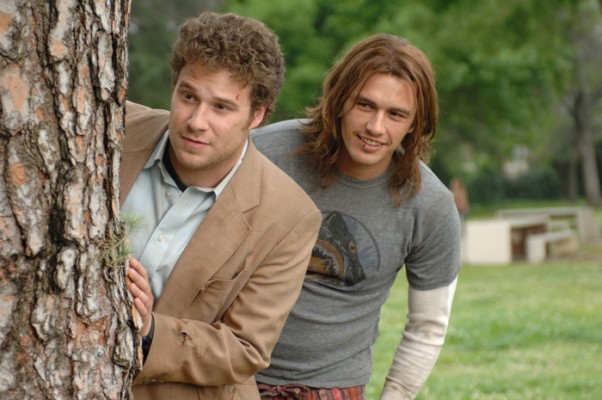 Pineapple Express
Directed by David Gordon Green
Written by Seth Rogen and Evan Goldberg from a story by Judd Apatow, Rogen, and Goldberg
Sony, 2008
One of the movies I checked on my must-see list this summer was Pineapple Express, the new movie from writers Seth Rogen and Evan Goldberg, who last year teamed with producer Judd Apatow to make one of the best movies of the year in Superbad. Once the red-band trailer arrived for view on movies like April's Harold & Kumar Escape from Guantanamo Bay and the semi-hit Forgetting Sarah Marshall (one of many Apatow movies this year), I knew this would be hilarious and action-packed and most importantly, fun.
Dale Denton (Rogen) is a process server who spends a lot of time smoking weed and calling into talk radio programs while looking for the best way, usually via disguise, to serve papers to people who need to show up to court. His main supplier is Saul Silver (James Franco), a dealer who has just exclusively received the amazing pineapple express brand of marijuana. Denton and Silver are in the infant stages of a possible friendship. Denton goes to serve drug kingpin Ted (Gary Cole) papers but through a window from the street witnesses Ted and a "lady-cop" (an unrecognizable Rosie Perez) shoot an Asian man through the head. Denton, in his high and panicked state, has a horrible time getting out of the street and makes a bunch of noise. Dale leaves a roach of pineapple express on the road, Ted is indirectly Saul's supplier, and it just takes a call to middleman Red (Danny McBride) to figure out who currently sells the stuff.
The chase is on. Dale runs over to Saul's apartment and tells him that they might be in danger, and they run out of the place before Ted's hitmen Budlofsky (Kevin Corrigan) and Matheson (Craig Robinson) show up. From this point, the duo hopes to get help from the compromised Red, or maybe Dale's underage girlfriend Angie Anderson (Amber Heard) and her parents (Ed Begley, Jr. and Nora Dunn…Begley may have the best line of the whole movie), but ultimately they'll have to fight this fight alone. To throw more confusion into the mix, Ted has a war with Asian druglords and their hitmen (Bobby Lee and Knocked Up's Ken Jeong) and as we all know, all of these elements are going to crash head-on in the finale.
The movie has a great many hilarious observations and funny (and painful) fight scenes. This is James Franco's best performance ever after being relegated to some truly nonsense films over the years and the rather one-note revenge-seeking Harry Osborn in the Spider-Man movies. Rogen is his usual likeable average-joe self. The two form a pair much like Michael Cera and Jonah Hill did in Superbad, where friendship takes on a romantic, or if you prefer, bromantic aspect, a modern-day take on non-homosexual dudes who love each other.
Director David Gordon Green (Snow Angels, All the Real Girls) does the same terrific job Superbad's Greg Mottola did by giving the comedy a more "dramatic" feel through lighting. Most comedies use flat (that is to say, very bright with no shadows) lighting as if to accentuate the sunny spirit of the proceedings, but Superbad and Pineapple Express look slick, done by professionals who want to do more than just make sure all the funny lines are shot and put in the can.
So the report card for Apatow this year, who appears to be done until 2009 after this one: Drillbit Taylor (awful), Forgetting Sarah Marshall (very good), as writer for You Don't Mess with the Zohan (forgettable), Step Brothers (not funny), and Pineapple Express (the best of the bunch)…He gets a B- this year. The movies with his backing can be hit or miss, but if we can have at least one of these every year I'll take the bad knowing it'll all be OK.
Write a comment
You must be logged in to post a comment.