Mamma Mia A Winsome Trifle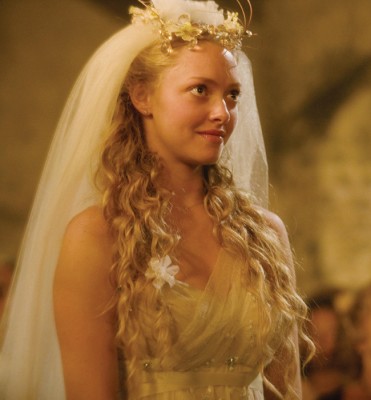 Mamma Mia!
Directed by Phyllida Lloyd
Written by Catherine Johnson
Mamma Mia!, the movie version, comes about after Meryl Streep saw Phyllida Lloyd's Broadway adaptation. It's a bit of an oddity to see a movie set in modern-day with people singing 70's Abba tunes, and the overall "plot" of the musical is patently silly and light, but therein lies the charm of a midsummer time-wasting alternative to The Dark Knight.
Sophie (my new favorite "girlfriend," Amanda Seyfried) is about to get married to dreamboat Sky (The History Boys' Dominic Cooper) and wants a nice, traditional wedding on a Greek beach where her mother Donna (Streep) runs a run-down hotel. That means all the usual, including having her father give her away, but there's a problem: she doesn't know who her father is, and spying into her mother's diary has revealed that she may have three possible fathers. They are: Bill (Stellan Skarsgard), Harry (Colin Firth), and Sam (Pierce Brosnan).
Of course she wants to keep from her mother that she invited the three so that she doesn't kick them out too soon. She wants to get to know who her father might be so that she can pick the right one. It also seems that Sam still has feelings for Donna, so years and years of unresolved love is at stake as well.
But this movie is really just an excuse to have lots of dancing and singing and appealing to a difference audience (skewing older, from what I witnessed). A few of the songs are catchy, a few are pretty disposable, and you've got nice supporting turns from the likes of Tony-winner and character actress Christine Baranski, British legend Julie Walters, and newcomers Rachel McDowall and Ashley Lilly, playing pairs of friends to Streep and Seyfried, respectively.
Currently sitting at the "eh" scale on Rotten Tomatoes, you're either going to go in knowing what to expect and love it, or be dragged in screaming and hate it.
Write a comment
You must be logged in to post a comment.