Movie Review: The Godfather, Part II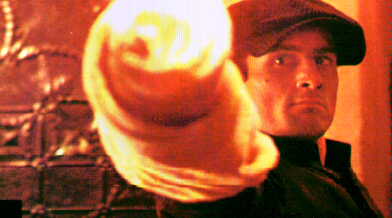 Written by Coppola and
Mario Puzo
, from the novel
The Godfather
by Puzo
Paramount, 1974
Just two years after the enormous success of The Godfather, a film that got nominated for 11 Oscars and won 3 including Best Picture, Francis Ford Coppola had a tremendous year with not only the sequel, but the magnificent The Conversation as well.  Both films got nominated for Best Picture, a total of 14 nominations between them, and Coppola himself was up for 5.
Clearly the best sequel ever made, The Godfather, Part II in some circles eclipses the original.  Both movies are in the top 100 on AFI's 100 Years…100 Movies list, this one ranking at #32.  On the Internet Movie Database, the original ranks #1 and the sequel at #3.  What does it mean?  It means whether you watch one or the other, you won't be disappointed.
The Godfather, Part II already had something going for it, though.  In Mario Puzo's original novel, the excellent part describing Vito Corleone's rise to power was missing from the first movie (necessarily so, I feel).  And so, Francis Ford Coppola had something to work with for a sequel, plus the original addition of Michael Corleone's dealings with being the Don. 
Part II seemlessly moves back and forth between young Vito (Robert De Niro winning an Oscar for the character played by Marlon Brando, who also won the Oscar) and his present-day son Michael (Al Pacino), who brilliantly came into power in the last film.  Michael has big plans involving Las Vegas casinos and hotels, but he's got resistance from Senator Pat Geary (G.D. Spradlin), and there seems to be someone on the inside that wants Michael out of the way.  This could be anyone from Corleone mainstay Frankie Pentangeli (Michael V. Gazzo), Jewish mogul Hyman Roth (legendary acting teacher Lee Strasberg), Johnny Ola (Dominic Chianese, who would go on to play Uncle Junior in The Sopranos), or maybe even his own brother Fredo (John Cazale).  Maybe all of them.  Again, he will need his right-hand man Tom Hagen (Robert Duvall) to help sort out the mess while his marriage to Kay (Diane Keaton) begins to wither.
While that plays out, the film flashes back to the town of Corleone in Sicily, and a young Vito Andolini as a boy escapes to America, his family murdered by Don Ciccio (Guiseppe Sillato).  Ciccio believes the boy will grow up seeking revenge and wants him killed, but Vito finds his way to New York City, given the name Vito Corleone by clerical carelessness.  He struggles in the big city, not speaking a word of English.  He learns that in his neighborhood, things are run by Don Fanucci (Gaston Moschin).  As Vito gets married and starts having children, he enters into some illegal activity with his future captains, Clemenza (Bruno Kirby) and Tessio (John Aprea), but Fanucci wants a piece.  This is where Vito earns his stripes.
Another great, epic story, with loads of incredible performances.  What I take out of The Godfather II more than anything is the mystique of Vito Corleone.  How even his son, who can be quite brilliant, couldn't balance the business with his personal life as masterfully as his father.  The Godfather set up the idea that Michael Corleone was a carbon copy of his father, that he could be quietly, surprisingly ruthless in business but be a loving father as soon as he walked out from behind closed doors.  But The Godfather II knocks down that notion in a realistic way, one that plays well as the movie jumps back and forth from past to present. 
Pacino again was nominated for his work as Michael, and again lost.  In addition, Strasberg, Gazzo, and strangely enough, in a very limited role almost a cameo, Coppola's sister Talia Shire got nominated.  The film won more Oscars than its predecessor, with Coppola getting the trifecta of director, adapted screenplay, and as producer.  De Niro won his first, and it won a total of 6.  One of the best films of all time; if you haven't seen the first two Godfather movies, then by all means eagerly tackle your local video renting or online delivery establishment.
The Godfather, Part II earned its Best Picture.  The year of 1974 had an amazing group of films, including the aforementioned The Conversation, Roman Polanski's equally historic Chinatown, the Lenny Bruce biopic Lenny, and the Steve McQueen/Paul Newman action flick The Towering Inferno.  
Comments
Write a comment
You must be logged in to post a comment.