Harold and Kumar 2 A Bigger Adventure With Less Laughs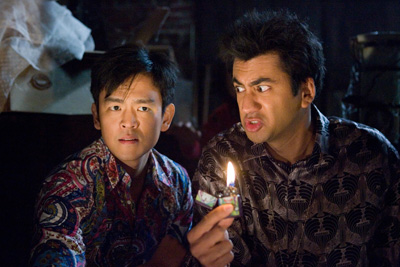 Harold and Kumar Escape from Guantanamo Bay
Written and directed by Jon Hurwitz and Hayden Schlossberg
New Line Cinema, 2008

Harold and Kumar Go to White Castle was an enjoyable, small movie filled with your usual stoner comedy staples: sex gags, copious smoking, and bent characters met along the way. Harold and Kumar Escape from Guantanamo Bay is more of the same, but on a bigger scale that seems to swallow a lot of the laughs. I'm not sure I can adequately describe why a movie like this is less funny when the scope is larger, but movies like Harold and Kumar certainly work better when they're less ambitious.
In this episode, Harold (John Cho) and would-be doctor Kumar (Kal Penn) want to go to Amsterdam because it's Mecca among potheads. Plus, Harold wants to track down his lady-love Maria (Paula Garces). So they get on a plane, where Kumar smuggles this specially-made bong onboard and wants to smoke weed in the bathroom, only to get caught with it. Everyone thinks his bong is a bomb, panic occurs, and before you know it, Harold and Kumar are getting grilled by Homeland Security by doofus Ron Fox (Rob Corddry), who thinks he's caught North Korea and Al Qaeda working together.
H & K get sent to Guantanamo, and they quickly escape, taking a raft from Cuba back to the States, so that they might get to Texas, where Kumar's ex-girlfriend Vanessa's (Daneel Harris) fiance (and douchebag), the politically-connected Colton (Eric Winter) might be able to help them out. They get help from Raza (Amir Talai), Goldstein (David Krumholtz), and Rosenberg (Eddie Kaye Thomas) along the way, and in the process get them in trouble. On the way to Texas, H & K run into crazy people across the Southland, and you can bet some stereotypes like inbreeding and the KKK will be explored. And yes, Neil Patrick Harris returns as "himself," so as his funny cameo from the first film can be inflated into something not as funny.
The movie has a lot on its mind: racial stereotypes, dumb politicians, and dumb government agents. Sometimes, however, portrayals can be so dumb as to be obnoxious. Rob Corddry's Homeland guy is so dumb that it's painful; he's not really likable like Will Ferrell in Jay and Silent Bob Strike Back, where being dumb didn't include being an asshole on top of it. There's a stretch where the movie becomes very funny but it actually occurs during the perpetuation of southern stereotypes, which is bittersweet. I will also say that this movie has one of the strangest (and therefore, very funny) sex scenes ever recorded on film.
But when it's taking light political jabs here and there, it pretty much misses. And you can bet when George W. Bush (James Adomian) shows up in the flick, he'll be toking with H & K and we'll get to see Bush as the all-around "character" society has created for him: a guy we'd like to hang out with maybe but shouldn't be running the country.
Overall, this isn't bad, but there's too much weight in this mix. And those weighty matters could have been done better. Just give me a cross-country trip with these guys running into strange people the whole way and everything will be completely fine. Cutting out all of the political stuff would have done this movie a world of good.
Write a comment
You must be logged in to post a comment.