Forgetting Sarah Marshall An Immersive Romantic Comedy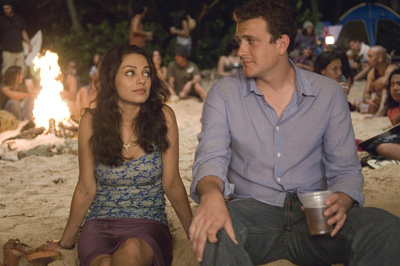 Forgetting Sarah Marshall
Directed by Nicholas Stoller
Written by Jason Segel
Universal, 2008
Judd Apatow, for better or worse, has hooked up all of his friends, using his newfound Hollywood power to produce their screenplays. The latest here is longtime pal Jason Segel, who starred in Apatow's Freaks and Geeks and appeared in last year's Knocked Up, and he's been a visible face lately in TV's How I Met Your Mother. He's a funny guy, much like multi-hyphenate Seth Rogen, so thinking that he might be able to pound out a decent script isn't a stretch.
In Forgetting Sarah Marshall, Peter Bretter (Jason Segel) is a composer for a TV show called Crime Scene, starring his girlfriend Sarah Marshall (the oceanic blue eyes of Kristen Bell). Sarah breaks up with him after a five-year relationship, preferring Brit pop star Aldous Snow (scene-stealer Russell Brand), a guy who sings sensitive-sounding love songs full of sexual innuendo. Peter, with the urging of his married brother Brian (Bill Hader), goes on vacation to Hawaii, where coincidentally Sarah and Aldous are staying.
Getting over the relationship is tough, but Peter meets cool gal Rachel Jansen (the stunning Mila Kunis), and several other new friends for support: surfer Chuck (Paul Rudd), bartender Dwayne (Davon McDonald, who appeared briefly in Drillbit Taylor), waiter David (Jonah Hill), big guy with a big heart Kemo (Taylor Wily), and newlywed Christian couple Darald (30 Rock's Jack McBrayer) and Wyoma (Maria Thayer).
This is where Forgetting Sarah Marshall really becomes entertaining: by allowing a lot of talented people to play likable characters, first and foremost Mila Kunis. Kunis, who came onto the scene with That 70's Show and voices as Meg on Family Guy and in several episodes of Robot Chicken, has always been a hot girl who seemed like you could sit and drink a beer with. If you watch That 70's Show, you'll see how quietly she was one of the best actors in that series. This role is a bit different for her, and she sinks down into it, fun and full of life. There's no doubt that Peter is going to fall for Rachel, and make the theme of the film's title come true.
The offshoot of having a bunch of characters like this is that there's plenty of depth to the comedy. One scene in particular that represents the fun of it is when Aldous Snow is giving sex tips to Darald, using an oversized chess board on a beach. I can't explain how odd this movie is, not in a David Lynch or Terry Gilliam sort of way, but in the way in which the film presents little nuggets that sew up an environment ripe for laughs. It takes the Hawaii backdrop and uses it to full effect, finding people who live on an island and have a wealth of backstory to tell. It's a rather complex movie for a comedy. It could have been done in a careless 80's sex comedy style, but there's seems to be great attention paid to every scene.
At first I was worried about this movie since the first big joke is the sight of Jason Segel completely naked during his breakup. The Apatow gang has used the penis as a sight gag a lot lately, and I thought the movie might be heading into that kind of cheap territory. But it's completely winning, one that deserves its place next to Knocked Up and Superbad from last year. It's not quite like those movies, however. It's really its own style. Sure, there's some raunch mixed with sweet, but it doesn't have the same tone at all. Those movies may be funnier, but they're not any more entertaining than this one.
Jason Segel scores, as does first-time director Nicholas Stoller, and hopefully audiences will follow.
Comments
Write a comment
You must be logged in to post a comment.