Prom Night Doesn't Tap Virgin Ground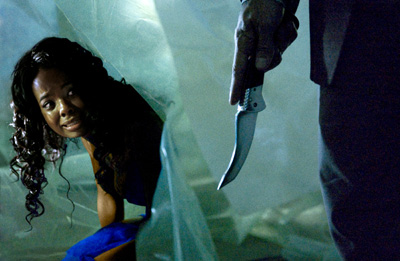 Prom Night
Directed by Nelson McCormick
Written by J.S. Cardone
Screen Gems, 2008
Right off the bat, you can't expect a movie like Prom Night to be good. It's a remake of an earlier cult horror film (reviewed by Sam Loomis here), sanitized to PG-13 for today's high school teens purely for the money. And that's fine. I have no problem with a studio trying to make more money, and loads of gore doesn't make a horror movie great. But when said studio starts skimping on everything else, like entertainment, well there's not much chance for a movie to be decent anymore now is there?
In Prom Night, Donna Keppel (Brittany Snow) has the extreme burden of having seen her family dead, her mom sliced and diced right in front of her as she watched from under a bed. The killer is her obsessed former teacher, Richard Fenton (Johnathon Schaech). She escapes, and now we forward to the present, where she lives with her aunt (Jessalyn Gilsig) and uncle (Linden Ashby), and has gotten sufficiently better, enough to go out to her prom without her meds.
Her date is boyfriend Bobby (Scott Porter), and along with friends Claire (Jessica Stroup), her boyfriend Michael (Kelly Blatz), prom queen wannabe Lisa (Dana Davis), and her boyfriend Ronnie (Collins Pennie). The prom is held at a hotel and they start worrying about the future, college is coming up, and oh yeah, there's that bitch Crissy Lynn (Brianne Davis) who thinks she's going to be the prom queen. The nerve.
Little do they know that Fenton has escaped from prison and is looking to express his love to Donna in the most homicidal way possible. Detective Winn (Idris Elba), who catches a late wind of the escape, was on the case a few years ago, and now he's out to make sure Fenton can't hurt Donna anymore.
There are no surprises, and I don't mean that in the omnipotent voice of the critic. The movie doesn't have any surprises. We know who the killer is from the get-go, which is fine if you then add some suspense in some way, and develop the characters a bit more, and use the setting of a hotel prom more to your advantage. Nothing about Donna's meds are brought up, which could have been used in some way. Plus, how many times are mirrors going to be used in the attempt to scare people? Anytime there's a mirror, you will assuredly see the same scene you have ever seen in every other horror movie.
Pretty much, there's absolutely no worth to this movie. I sometimes wonder if it's worse to be bad, or just lacking in content altogether. At the very least, I'll remember a movie that is terrible over one that is cookie-cutter.
Write a comment
You must be logged in to post a comment.