21 Doesn't Bet on the House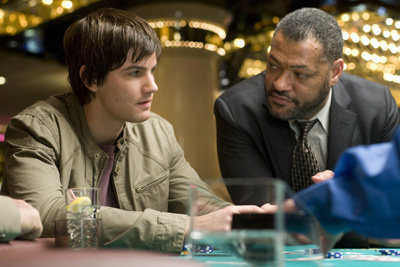 21
Directed by Robert Luketic
Written by Peter Steinfeld and Allan Loeb based on the book Bringing Down the House by Ben Mezrich
Sony, 2008
Ben Mezrich's Bringing Down the House is an entertaining book that explains in detail the system that MIT students used to beat Blackjack in the early nineties. Since Vegas certainly doesn't like people taking its money in consistent fashion, they began using automatic shufflers of multiple decks inbetween hands so that card counting would be inconsistent. Plus, they started using facial recognition software to locate suspected card counters, even when in disguise.
Card counting isn't something the average person knows in detail. It was made popular by Rain Man when Dustin Hoffman counted cards and made lots of money. However, not many people really know what is meant by "counting cards." And this is something that the film adaptation really needed. It half succeeds.
Ben Campbell (Jim Sturgess) is a MIT student looking for a prestigious scholarship into Harvard med. He's got lots of competition, obviously, and the admissions guy is asking him what makes him stand out from all the other people who want the free ride. So begins his tale, how he was stuck in his boring life making 8 bucks an hour at a clothing store and how he and his friends (Josh Gad, Sam Golzari) are trying to make a sophisticated robot.
Enter Professor Micky Rosa (Kevin Spacey), who is impressed by Ben in class and thus invites him into the world of Blackjack. His team consists of a couple of cute chicks, love interest Jill Taylor (Kate Bosworth), Kianna (Liza Lapira), Choi (Aaron Yoo), and would-be rival Fisher (Jacob Pitts). Ben is reluctant at first, figuring his boring life is doing fine, but the money he needs overwhelms him and he decides to give it try. Rosa's system is to have spotters who place minimum bets but keep track of the number of cards that have been played on the table, each with a number value. If the deck is determined to be hot, the spotter signals for a "big player," in this case Ben or Fisher, to mow down the table.
Trying to beat the card counters is Cole Williams (Laurence Fishburne), who is about to be booted by the increasingly popular facial recognition software that finds patterns and past offenders. Williams looks to prove that the old analog way is better before retirement. He and his partner (Jack McGee) aren't shy about pounding some heads, either.
Of course, when skill and money are involved, so are egos, and Rosa's team begins to show cracks when jealousy starts to creep into their world.
The film isn't radically different from the book, although there are several changes. But the main issue I have with the movie is not going through all the card values and codes properly. This could have been fleshed out with some entertaining dialogue. A person who has never been introduced into card-counting before will probably still be lost as to how they come up with the overall number for the deck. It would have been nice to see a game from beginning to end, with explanations, then they could have gotten into the action and made this more of an active viewing experience. Plus, they could have fleshed out Fisher's character a bit and made the rivalry between he and Ben a little more believable.
As such, it's a mildly fun film overall. You could do worse with your day at the movies.
Comments
Write a comment
You must be logged in to post a comment.