College Road Trip: That's So Raven Redux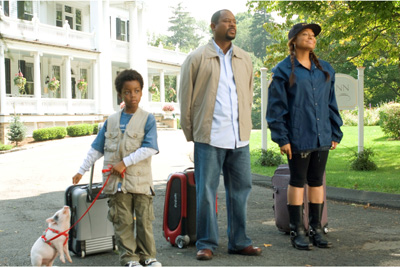 College Road Trip
Directed by Roger Kumble
Written by Emi Mochizucki, Carrie Evans, Cinco Paul, and Ken Daurio
Disney, 2008
Martin Lawrence in a G-rated comedy. Who would have thought that would have ever happened? And on top of that, getting pecked on the cheek by Donny Osmond? It's a whole new world for the You So Crazy stand-up comedian. On the other side of it is Raven Symone, doing that wholesome Disney thing, the former Cosby Show "Oliver" all grown up and ready to hit a bigger stage like her predecessors Lindsay Lohan and Britney Spears did.
College Road Trip is about a cop dad, James Porter (Lawrence) having a hard time letting go of his college-bound daughter, Melanie (Raven). What kind of odds will you get that the line, "I'm not a little girl anymore!" will be uttered before the movie ends? James wants his daughter to go to nearby Northwestern, but Melanie has bigger plans for Georgetown and later, maybe even a program that will take her away to Japan.
So, when it's time for Melanie to take a look at colleges, her dad volunteers to take her on a road trip to tour potential schools, a way to possibly bond one last time and maybe even convince her to go to Northwestern. The whole matter of trust and letting go and all that is explored, as is how annoying Donny Osmond is, who plays over-excited dad Doug to his over-excited daughter Wendy (Molly Ephraim), who continually run into the Porters and extol creepy positivity.
Raven Symone is from the Amanda Bynes school of over-reacting. Almost any mildly disturbing situation is met with an extreme crinkling of the nose and bugging of the eyes. This sort of performance wins you a cluster of fans, but rarely extends to advancing your acting career. Meanwhile, Martin Lawrence does what he can with this, probably trying to appear in a movie for his own daughter like so many do.
So, this certainly isn't for me. Some people might like exaggerated annoyances as their comedy cup o' tea, but I generally just find them annoying, no matter the intent. And that's what this movie pretty much is, so enter at your own risk.
Write a comment
You must be logged in to post a comment.