Semi-Pro Offers Amateur Laughs, Too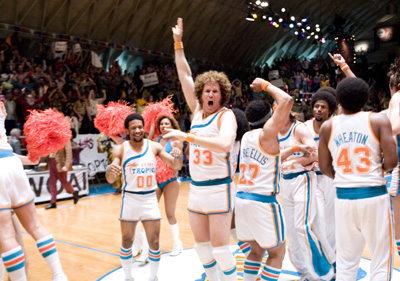 Semi-Pro
Directed by Kent Alterman
Written by Scot Armstrong
New Line Cinema, 2008
There is a point when things we like tend to get stale, or too self-aware, and the sameness that the product promises just doesn't feel the same anymore. Semi-Pro banks on several of the same things we have gone to watch in the past: Will Ferrell in the 70s (Anchorman), Will Ferrell in a sports comedy (Talladega Nights, Blades of Glory), and that "return of the raunchy" that began with 2003's Old School, confirmed by Wedding Crashers, and driven the success of Judd Apatow's The 40-Year-Old Virgin, Knocked Up, and Superbad. Old School was written by Scot Armstrong and starred…Will Ferrell.
Blades of Glory was a comedy you either took or left, and even though I ended up liking it, the antics of Ferrell had begun to show their age. He plays the idiot man-child, prone to saying something non-sequiter or overly obvious and exaggerated. His run has lasted from the nineties in Saturday Night Live to the present, and should Ferrell's sameness finally prove to fail at the box office soon, it's been a good run.
In Semi-Pro, his idiot man-child is named Jackie Moon, a man who owns, coaches, and plays for an ABA team called the Flint Tropics, a team that gets no attendance and where the players perform in halftime shows. The commissioner (David Koechner) announces to the ABA owners that the league is about to merge with the NBA…only 4 teams, though, and certainly not the Tropics. Moon suggests that the best 4 teams get to go, not just the most popular, and it's accepted. But Moon isn't exactly the best man to take his Tropics to the top of the league. A rather ridiculous trade for a new player, Monix (Woody Harrelson), turns out to be the ingredient he needs, however.
But Moon isn't exactly about winning, really. He just wants to keep the team and be able to churn out Bill Veeck-style promotions. He's a cheap bastard who sets up promotions that he feels are impossible to achieve (a shot from full court would win a lucky fan $10,000, if Moon has any intention of paying it). But in true underdog-story fashion, Monix takes over the coaching of the team, gets their star player "Coffee" Black (Andre Benjamin) to start playing to his potential, and it looks like the Tropics are well on their way to "winning 4th place."
The laughs are few, and everybody is trying to make this as R-rated a comedy as possible, throwing in profanity that doesn't add anything to the situation. There's an unneeded subplot involving Monix and his ex-wife Lynn (Maura Tierney), that does lead to one pretty good joke involving Lynn's new husband, the Monix-fan Kyle (Rob Corddry), but it doesn't quite take it as far as it should. In fact, there are a few times when the movie introduces something that could be mined for comic steam and it's left hanging. A comedy like this should always try to find over-the-top situations and exploit them.
There is one bright spot here: Andrew Daly as broadcaster Dick Pepperfield, who trades banter with Lou Redwood (Will Arnett). His very subtle only-sane-man-on-the-premises delivery steals this entire movie. Just one of the highlights: when Redwood says Moon has done more for Flint than anyone in history, Pepperfield responds non-confrontationally in a pseudo-agreement, "Yes, I'd say besides Henry Ford…Moon might be a close second."
Other than him, though, it's the hit-and-miss Will Ferrell comedy minefield, with doses of unneeded self-aware profanity. Proceed at your own risk.
Write a comment
You must be logged in to post a comment.