Movie Review: Fool's Gold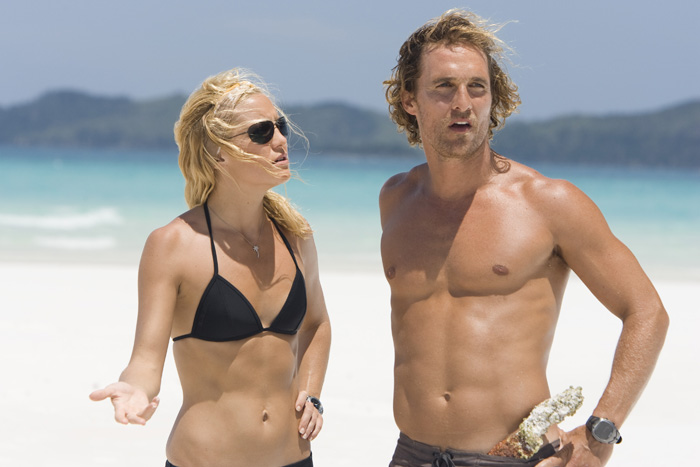 Warner Bros., 2008
Though How to Lose A Guy in 10 Days was one of the worst movies I saw in 2003, it went on to make over $100 million during the same early February timeframe as this new Kate Hudson/Matthew McConaughey team-up arrives.  So what do I know?  Anyway, promising an adventure in the romantic comedy confines, this new film had a chance (an outside one) to at least be better than the last one.
But let's not forget, let's not forget, that this is also a re-team of McConaughey and Donald Sutherland from 1996's A Time to Kill.  Perhaps this is the reunion everyone is anticipating.
In Fool's Gold, Finn (McConaughey) is searching for The Greatest Treasure of All Time with friend Alfonz (Ewen Bremner) underwater off the coast of an island, when their boat catches fire and sinks.  One thing is salvaged, however: a piece of plate that contains a clue to the possible whereabouts of the treasure.  Unfortunately he owes money to gangster rapper Bigg Bunny (Kevin Hart) who has sent his goons (Brian Hooks and The Cosby Show's Malcolm-Jamal Warner) to dispose of Finn for not ponying up.
Just as unfortunate is that his wife Tess (Hudson) is divorcing him for being a dumbass.  Or something.  She used to be part of the Greatest Treasure of All Time hunt, too, before she got wise and wanted to go back to school.  Despite Finn's pleas the divorce goes through.  A twist of fate has Finn running into Nigel Honeycutt (Sutherland), his daughter Gemma (Alexis Dziena), his yacht, and into Honeycutt's steward (and Finn's now ex-wife), Tess.
After a long, who-cares? exposition on the story of The Greatest Treasure of All Time, Honeycutt gets treasure fever and agrees to take Finn and Tess to possible sites.  But they have to contend with Bigg Bunny and his hired treasure hunter, Moe (Ray Winstone).
It's all tiresome and not very fun.  The numerous amounts of exposition involving the man who hid the treasure hundreds of years ago is somnolent, as is the so-called "adventure" that supposedly gets Finn and Tess back together.  The topping on this awful sundae is the "bad guys" angle.  Bigg Bunny is of course a gangster/rapper and it adds nothing, unless you count possibly racist to some viewers.
Really, nothing good about this one.  But I swear I heard someone I watched this with say, "I liked it!"  Oh my.  I just shake my head and hope to ignore the cash this movie makes.
Write a comment
You must be logged in to post a comment.