Movie Review: The Holiday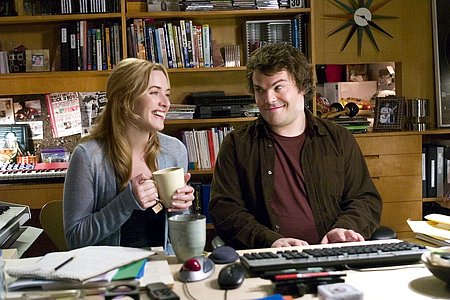 Sony
It's easy to dismiss romantic comedies nowadays, mainly because they are completely manufactured by the studio: Let's get Handsome Actor to mate with Beautiful Actress, a couple we'd like to see that we haven't before.  And, as always, we'd like these two to hate each other at first, but then (usually the guy) does something surprising and it's not long before the woman's heart melts.  But be sure to include The Big Breakup Based on Some Misunderstanding so there can be a Win-Her-Back scene in the end.
So, The Holiday immediately gets high marks for abandoning this convention.  Sure, there's the usual romantic comedy gimmick; this one concerns L.A. movie trailer editor (!) Amanda (Cameron Diaz) getting out of her listless relationship with Ethan (Edward Burns, completing a She's the One reunion) and switching homes with Surrey magazine writer Iris (Kate Winslet), who has a former boyfriend she's still in love with named Jasper (Rufus Sewell) who keeps sending mixed signals even though he's engaged to another.
It's the "find oneself" story: Iris lives in Amanda's L.A. mansion, ends up meeting a former big-time screenwriter, Arthur Abbott (90-year-old Eli Wallach) in the neighborhood, and helping him become more confident in himself again so he can accept a lifetime achievement award from the Writer's Guild.  She also meets film score maestro Miles (Jack Black), who doesn't appear to be a love interest as he's dating a hot actress named Maggie (Shannyn Sossamon).  On the other side of the pond, Amanda meets Iris' brother Graham (Jude Law) and they immediately get physical, based on the assumption they will never see each other again.  They like each other, but Amanda will only be around for a few more days and hence, it's complicated.
The movie probably could use some trimming here and there (Meyers' Something's Gotta Give definitely needed it); some might get a little impatient with the whole Eli Wallach thing, even though he's a treat to watch.  I loved the film's movie savviness, especially in the area of Amanda the movie trailer editor, who often has the movie trailer voice guy (Hal Douglas) butt into her thoughts.  If anything, that could have been a fun everpresent gimmick, but Meyers chooses restraint, which is OK I guess.  The trailer stuff is some of the most memorable of the movie.
And while some of the movie is corny, it embraces its corniness: Iris shouts, "I love corny!"  While this doesn't make a movie good, being aware of its potential faults, it does speak to an audience who is tired of cynicism, who want to see their characters struggle to make intelligent decisions and be rewarded for it (and not be the basis for some other plot complication).  This won't be winning anyone over with great dialogue, but it will win many over just by being a cozy, inviting, relaxing time at the movies.
Comments
Write a comment
You must be logged in to post a comment.