Movie Review: Apocalypto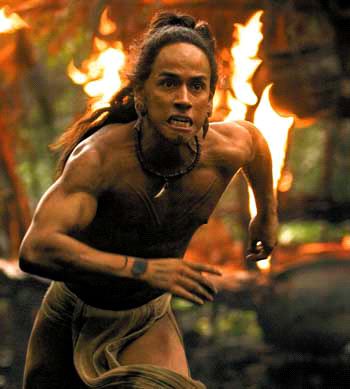 Touchstone
Apocalypto already has a few things against it becoming a hit.  It has a cast of unknowns, subtitles, and a bizarre marketing campaign that didn't really tell us what the movie was about, even though it emphasized action.  Some might say Gibson faced some of the same problems with The Passion of the Christ a few years ago, but there was a built-in audience with a tremendous marketing blitz through churches that made that one a hit.
This one concerns the end of Mayan civilization before the Spanish conquests, focusing on a particular tribe living peacefully in the forest.  Our hero is Jaguar Paw (Rudy Youngblood), who is married to Seven (Dalia Hernandez) and has a child, Turtles Run (Carlos Emilio Baez), and another baby on the way.  The tribe gets attacked by a rival tribe, and Jaguar Paw hides his wife and child in a pit nearby.  Jaguar Paw is soon kidnapped, and his family is trapped in the pit.  Soon, Paw and others are being led to a sacrifice while others, namely the women, are being sold into slavery.  Due to a fortunate circumstance, Paw is spared and sent on the run in a Most Dangerous Game-style manner.  With his family on his mind, the chase begins.
Apocalypto is old-school filmmaking, a classic action tale that you might have seen in the old Hollywood, sans the brutal bloodshed.  Oh yes, Gibson has never shied away from that, whether the movie is Braveheart or The Passion, and there's some stuff that will make you wince or throw your head back in whiplash it's so brutal. 
I thought the beginning of the movie was a bit bungled, considering Gibson spends a lot of time on Jaguar Paw's brother Blunted (Jonathan Brewer), who seems to be fodder for village pranksters and is made out to be a fool (and, as is usual, later the hero).  So we don't get much of a sense of Jaguar Paw as a man before the attack, or even that he's the main guy.  These end up being relatively minor qualms, but it would have helped this to be even better.
As is, though, an action fan will not be disappointed.  It's got everything in the action canon: pursuit, death, luck, resourcefulness, and secondary dangers (beware of the jaguar!) all combining into one thrilling flick.
Comments
Write a comment
You must be logged in to post a comment.