Movie Review: Hairspray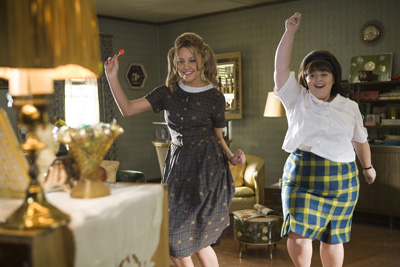 New Line Cinema, 2007
I'm not familiar with John Waters' 1988 film, nor the Broadway musical.  But this year's Hairspray is another example of Hollywood trying to make old things fresh again.  We saw the same thing with The Producers a few years ago: an original movie turned into a stage musical then back to a movie in musical form.
Hairspray shockingly grossed over $100 million this summer, one of the few movies (along with Alvin & the Chipmunks) that I didn't see coming.  Director Adam Shankman, for good or ill, can officially be called a hitmaker despite poorly-reviewed films like Bringing Down the House, The Pacifier, and The Wedding Planner, with Cheaper by the Dozen 2 being his "one" blemish.  The other thing shocking about Hairspray was that it was universally well-reviewed.
Hairspray is about plus-sized Tracy Turnblad (Nikki Blonsky), who wants to dance on Baltimore's TV dance sensation, The Corny Collins Show.  It has its star couple, Link Larkin (High School Musical's Zac Efron) and Amber von Tussle (Brittany Snow), its charming host Corny (James Marsden), and the point: an all-white cast straight out of the Mickey Mouse Club.
Playing the villanous station manager is Amber's mom Velma (Michelle Pfieffer), who makes sure that no one non-white, non-attractive gets on the show, although she placates the black audience with a once-a-week "Negro Day," hosted by Motormouth Maybelle (Queen Latifah).  None of the black cast is allowed to dance with the white cast.
But then there's an audition, and though Tracy's mom Edna (John Travolta in drag) disapproves, she's encouraged by her father Wilbur (Christopher Walken, in the oddest Pulp Fiction re-team you'll likely ever see).  She doesn't meet approval from Velma, of course, but after she impresses Corny she becomes part of the show.  And she immediately becomes popular, threatening to dethrone her daughter as the dance queen.  Velma schemes to not only find a way to get Tracy off the show, but put an end to all that is different.
This is all done to lively musical numbers, much more fun to watch than the dreary Dreamgirls, which covered many of the same thematic bases last year.  Blonsky got some well-deserved raves for her positive, spirited performance. 
If I had one qualm about Hairspray it would be the song "Run and Tell That," which is an empowering black anthem that calls for equality, and who can argue with that?  But it has to include the phrase, "The darker the berry the sweeter the juice," which underlines differences rather than similarities.  And later in the film Tracy's friend, the lollipop-sucking Penny (Amanda Bynes), mentions that now that she's tried "chocolate" she won't go back.  This type of overemphasis unknowingly continues to separate the races rather than bring them together.  But I am but a humble reviewer, it's just my opinion.
Other than that, it's a winning musical and worth the watch.
Comments
Write a comment
You must be logged in to post a comment.