Movie Review: Breach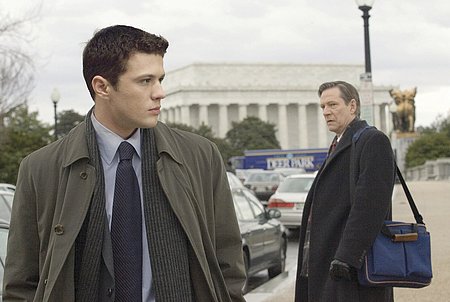 Universal, 2007
Breach was released in February of 2007 and it became one of those "Best ofs" that we tend to forget about as the year moves along.  I had not seen it until this week, but I kept hearing about Chris Cooper's performance in the movie and I decided to give it a shot.
It's based on the true story of disgraced FBI agent Robert Hannsen.  Agent wannabe Eric O'Neill (in the usual performance given by Ryan Phillippe: sincere but never complex) is tasked by FBI higher-up Kate Burroughs (Laura Linney) to temp in Hannsen's (Cooper) office with the hopes of uncovering evidence of Hannsen's "sexual deviancy."  Apparently Hannsen, a computer specialist who informs divisions on how to keep their secrets safe has been posting naughty videos over the internet.
But Hannsen seems like the perfect religious family man, who soon takes O'Neill under his wing and teaches him some truths about the Bureau, and that he needs to be a better Catholic and he needs to bring his East German wife Juliana (Wonderfalls' Catherine Dhavernas) into it to strengthen the marriage.  The O'Neills meet Hannsen's wife Bonnie (Kathleen Quinlan) and they seem like professional recruiters.  It causes a little strain on the O'Neills.
Still, Eric can't find any legal issues with Hannsen and demands Kate to tell him more.  It turns out that Hannsen also has been selling secrets to the Russians and his information has led to untold damage to the United States.  So Eric is inspired to do whatever he can do to help out.
Unfortunately for this movie, which was extremely well-reviewed back in February, it's persepective from O'Neill's vantage point doesn't allow us to see the secret world of Hannsen.  It's far too literal: yes, the damage that Hannsen did is classified, but movies have a tendency to at least speculate on these things and it would have been cool to see Hannsen in action.  In fact, the movie should have been from Hannsen's perspective.  He's such an interesting person, one that movies are made of, and we'd get lots more Chris Cooper, who deserves his raves.  Instead we're stuck with that sad-sack Ryan Phillippe for two hours.  Seriously, can you remember any of his performances after you're finished watching it?  Give it a day or so, you won't.
Not bad, not good, but most of all, disappointing.  
Comments
Write a comment
You must be logged in to post a comment.