Movie Review: Juno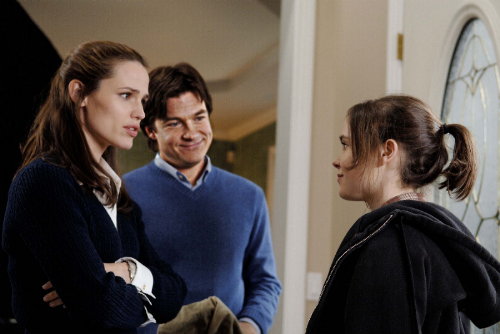 Fox Searchlight
I am naturally suspicious of movies that get tons of hype before their release.  Even if the trailer is good, as in the case of Juno, I still reserve some skepticism until I actually see the final product.  Many, many times, I have entered into these movies with high hopes, only to have them dashed by horrible narrative choices, or for being too ordinary, or for ultimately ringing false.
Juno is likely to finish in my top 10 this year, and there's not a "but" forthcoming.
This is the story of Juno MacGuff (played expertly in one of the most winning performances you'll ever see by 20-year-old Ellen Page), who has a one-time fling with best friend Paulie Bleeker (the always welcome Michael Cera), which results in pregnancy.  Not prepared to handle a baby, and untrusting in getting an abortion, she decides that she's going to give the baby up to a loving couple, in this case the Lorings, Vanessa (Jennifer Garner) and Mark (Jason Bateman), a yuppie couple who can't conceive.
Breaking the news to her parents Mac (J.K. Simmons) and stepmom Bren (Allison Janney) is awkward, of course, but they are supportive, and along with her best friend Leah (Olivia Thirlby, who actually steals a couple of scenes) she's ready to carry this baby to term.  It's actually the most minor conflict of the film.  She struggles with her feelings for Paulie and gets along innocently but all too well with Mark, in addition to the usual problems of being a teenager in high school.
Ellen Page carries the film with ease.  From a critical standpoint, we always try to figure out what it is about a performance that has that certain something, which has led to terms that I can't stand like "X Factor."  I think not being able to pinpoint exactly what it is about Page's performance, which is so likable that one could easily fall in love with her in less than two hours, is a charming aspect of the film.  She's a bit like Daria, the bespectacled spinoff character from Beavis & Butt-Head that quietly held contempt for social norms and drily commented on the things around her, only with a more apparent pulse.  Juno actually has wishes and dreams and a big heart that she can't conceal behind her wisecracks.
The movie is awfully funny, with tons of charming dialogue that creeps towards being dark but ends up being refreshingly light on the whole.  When Juno suggests to the Lorings that they might have tried to adopt a baby from China, and ends up with a gag about those T-shirt guns at sporting events, it's both appalling but winningly sunny at the same time.  Somehow, this movie ends up being nearly curse-free as well, just a couple spread out through the entire movie.
Just about everything in Juno is perfect; I had a slight qualm about one of the narrative choices in the movie, but it thankfully didn't turn it into something else after riding along so smoothly.  And perhaps it could have had a little more Rainn Wilson, who has a memorable cameo here, but then again, it wouldn't have made sense for him to show up any more than he did.  Juno is everything the hype says it is, so go see it when you can.  You won't be disappointed.
Comments
Write a comment
You must be logged in to post a comment.