Movie Review: This Christmas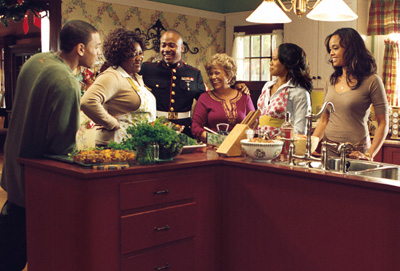 Sony
Well, folks, when a movie such as This Christmas comes out touting a mostly black cast, this can mean only one thing: that black audiences don't typically watch what white people have seen for years, the home-for-the-holidays movie where a bunch of family members who haven't been all together for several years suddenly congregate in a big house and everyone catches up on what's been going on all this time, secrets are revealed, and many of the family members are given a reminder as to why they stay apart all the time.
That's not to say that this exact same storyline isn't still repeated for white audiences ad nauseum every year.  But hey, a nearly all-black cast, something sure seems different about it now.  Well, not really.
Here are the family members and what they're going through:
Ma'Dere (Loretta Devine): She's the matriarch, having given birth to three daughters and three sons.  Her husband Quentin left her years ago and now she's shacking up with longtime friend-turned boyfriend Joseph Black (Delroy Lindo).
Quentin, Jr. (Idris Elba): He's a jazz musician and has hit the road, much like his father did, which leads to a music complex with Ma'Dere (uh oh…I wonder if anyone else in the family likes to do anything with music).  He owes money to bookies.
Lisa Moore (Regina King): Married to the no-good Malcolm (Laz Alonso), has two kids.  He's cheating on her, and he wants her to sell their stakes in Ma'Dere's laundromat so he can make even more money and cheat some more with this other chick in New York.
Claude (Columbus Short): He's got leave from the marines to see family, but he's got a secret white girlfriend (or wife? played by The Hills Have Eyes 2 hottie Jessica Stroup), and more secrets.  Also he's a hothead carrying guns into dance clubs.
Kelli (Sharon Leal, one of the hottest women on Earth): She just went to college, and that makes her sister Lisa jealous.  Doesn't have time to settle down, although does have a good vibrator (leading to Ma'Dere being one of those moms you only see in movies, asking if Kelli "needs any batteries").  Oh, and she'll eventually have Gerald (in a "special appearance by" Mekhi Phifer).
Melanie (Lauren London): Another hot daughter who's going to college, has a new boyfriend (Dreamgirls' Keith Robinson), and is in pre-law.  And, uh, doesn't add much else to the proceedings.
Baby (pop star/actor Chris Brown): He apparently likes taking pictures, but man oh man does he ever want to sing.  But the crazy-ass no-music policy handed down by Ma'Dere is a conflict.  What isn't a conflict is that the young man has some pipes.
And so, if anything here appeals to you, by all means eat it up.  You won't discover anything new here, but it has plenty of pretty babes, a couple of nice singing performances from Brown, and a ten-minute dance sequence in the end where usually the credits roll at the same time, but oddly enough, not here.
Write a comment
You must be logged in to post a comment.