Movie Review: Hitman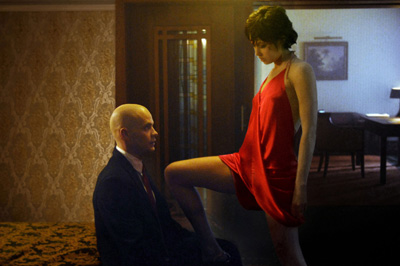 Fox
Hitman is based on the video game of the same name, and with countless failures/critical drubbings for movies such as Resident Evil, House of the Dead, Alone in the Dark, Final Fantasy, Bloodrayne, Super Mario Bros., Street Fighter, Mortal Kombat, Doom, D.O.A: Dead or Alive, and Double Dragon, (not to mention countless Pokemon movies)Â the track record has been, uh, a bit bad.
In Hitman, Timothy Olyphant plays the title character (later known as Agent 47).  He's just been given a job to kill a top politician, Mikahail Belicoff (Ulrich Thomsen) who has had the audacity to change his ways, and 47 has to do it in a public place.  So, he takes care of that, and is told that there was a witness, Nika Boronina (Olga Kurylenko), and he's going to have to off her.  A meeting is set up, but it looks as though someone is out to kill him instead.  He escapes the attempt.
So 47 questions Nina, finding out she was one of Belicoff's stay-at-home whores.  He takes her around Russia to find out who is trying to kill him.  Meanwhile, on his tail is INTERPOL agent Mike Whittier (Dougray Scott), who is getting all sorts of jurisdictional red tape from FSB agent Yuri Marklov (Prison Break's Robert Knepper).  Also in on the action at some point is Belicoff's drug-dealer brother Udre (Lost's Henry Ian Cusick).
Hitman has one very good action sequence in a train station, and everything beyond that is pure shoot-em-up, blow-em-up.  Timothy Olyphant is always worth watching, and here he's not the good-natured killer type that he usually embodies.  He's cold, but has a little bit of warmth under the surface.  Hitman fits the bill for what it is; a matinee is the best time to catch it, or on video of course.
Write a comment
You must be logged in to post a comment.