Movie Review: Mr. Magorium's Wonder Emporium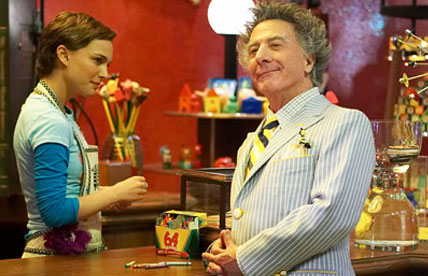 Fox
It's unfortunate when someone comes up with an idea (as much as it rips off Charlie and the Chocolate Factory) that could be great fun if the writer/director knows exactly what's in front of him or her and just takes off with it, but the final result plays like an early first draft with scenes that should be cut and others definitely added.
The idea that the store in Mr. Magorium's Wonder Emporium is a living, magical place where kids come and have loads of fun with the toys that have minds of their own is, while not totally original, is something you can base a winning family adventure on as long as you're willing to keep the magic coming.  A hint: the scene involving a pathetic, stuffed monkey reaching out to futilely grab an unaware Jason Bateman's arm and looking so sad that it's not getting played with is exactly the sort of thing this movie needed more of.
In Mr. Magorium's Wonder Emporium, eccentric toy maker Mr. Magorium (Dustin Hoffman) wants to die on his own terms, and he has reached the point in his 243-year-old life that he wants to pass on and give the store to his manager Molly Mahoney (Natalie Portman).  He has hired an accountant, forever to be known as Mutant, Henry Weston (Bateman), to be able to professionally advise Mahoney when the passing over takes place.  Magorium is keeping his death plans secret from Molly.
The store is a vibrant, colorful place filled with toys that are what people make them.  The most imaginative of the lot is Eric Applebaum (Zach Mills) who has trouble making friends because he seems so weird.  But when the store hears some negative talk from Molly, who wants to "grow up" and be a composer, with no ambition to run the toy store, the walls start changing to an unhealthy gray, a temper-tantrum from the store.
This is all well and good, but much of the time is spent on Mr. Magorium in a hospital, doing all sorts of "fun" stuff on his last day on Earth, lots of debate as to whether the place is truly magical, and so forth.  I think a better story might have been the main characters getting lost in the magical store, imaginations having to run wild in order to save the store and themselves.  There's a door in the movie that allows kids to pick where they want to go, but the only thing this cool (and somewhat ripped off of the Japanese-animated Howl's Moving Castle) aspect of the house is used for is a scene where kids play with bouncy balls, including one huge dodgeball (that you can't dodge, says Mr. Magorium).
So the elements were there but the focus is not.  As much of a character the house could have been, it's relegated to the sidelines.  It will probably be a treat for some, but for most it will be lacking. 
Write a comment
You must be logged in to post a comment.