Movie Review: Rocky II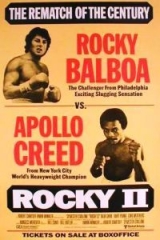 United Artists, 1979
With the previous year's Paradise Alley, Sylvester Stallone got some experience behind the camera.  His next project would be the sequel to his improbable 1976 hit, the third sequel of a Best Picture that decade, joining The Godfather Part II and The French Connection II.
Rocky II begins with what would be a Rocky sequel tradition: showing the last fight of the previous film to begin the next.  Rocky (Stallone) and Apollo Creed (Carl Weathers) are sent to the hospital after their brutal fifteen-rounder, one in which Apollo won by a contested narrow decision, and the media is already hounding them about a rematch.  At the end of the fight, Apollo clearly stated he didn't want a rematch, and Rocky replied he didn't want one, but here in front of the media, Creed claims Rocky was lucky to take him this far and wants the rematch.  Rocky, along with wife Adrian (Talia Shire), says he's retired.
Creed plots to get Rocky in the ring, while Rocky leaves above his means with the little cash he got from the fight.  He buys an expensive car, watches for everyone including Adrian's brother Paulie (Burt Young), and a new house.  Plus, a baby is on the way.  He figures endorsement deals are coming in soon, but since he's not exactly a great public speaker, he misses out on those, getting fired from his first attempt.  Eventually, Rocky is back trying to make ends meet, ending up at his manager Mickey's (Burgess Meredith) gym doing grunt work.  He becomes a joke.
So it becomes easy for Creed to goad him into the ring again, back in Philadelphia for a brutal rematch.
Rocky II is the only sequel of the bunch that actually seems to have ties to the original in tone.  It cares about the characters and it's consistent, unlike the following sequels which forget a lot of the essence of Rocky.  However, I dreamt of another movie during this, which is a bad sign.
Although I would have kept Rocky's financial struggles in the film, I would have yanked the sequence in which Adrian goes into a coma after childbirth, which derails the movie's momentum and grinds the film to a halt.  In its place, I would have had more Apollo Creed, more of the things he was going through.  In the original, he is portrayed as a marketing clown, too high on himself to train; in the second it shows him going to work, but it strays from him.  I'm not saying he should have gotten equal time; Rocky is our hero, but Apollo's need for the rematch is just as strong as his opponent's.
Stallone as director is OK, but he gives the movie no sense of style.  You can tell the trademarks of the seventies were waning; Stallone does no long takes and is drawn to over-reaction, like when Apollo reads his hate mail from a balcony in his mansion to his wife and then throws them in disgust when she doesn't think it matters as much as he does.
The fight is also not as good as the original, even though it is portrayed as more bruising and brutal, mainly from the staging, as some punches that are intended to be crushing blows obviously miss, which was something director John Avildsen managed to avoid in the original.  But it's a fairly satisfying rematch, with both fighters hitting the canvas in the fifteenth round and struggling to get back up and win the title.
Rocky II is a downgrade, and like I said, I wished it could have been something else.  Overall it's an OK chapter, one, like I said, that has more to do with the original than any others.  But just for the sake of argument, this ranks just ahead of the awful Rocky V.  I liked the next two better.  Read on.
Follows: Rocky
Next: Rocky III
Write a comment
You must be logged in to post a comment.