Movie Review: Bug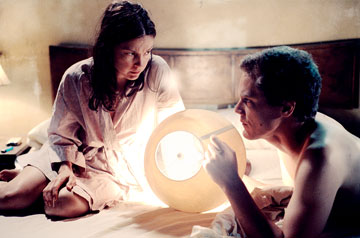 Lionsgate
Bug got released amid the "threequel" hoopla this May, serving as weak counterprogramming to Pirates of the Caribbean: At World's End.  Director William Friedkin, one of the top directors of the seventies with The French Connection and his best-known work, The Exorcist, returns to horror here and I'm a bit mixed on the overall result.
In a small town in Louisiana, Agnes White (Ashley Judd) lives a sort of lonely existence in the Rustic Motel, waitressing at a lesbian bar where her best friend R.C. (Lynn Collins) also works.  R.C. wants Agnes to meet Peter Evans (Michael Shannon, reprising his role from the play), a shy guy who speaks a bit strangely but is an overall nice dude.  They go back to the motel, but Peter claims he just wants a friend and "isn't much for women," but a romance blossoms anyway.
Agnes has fled from her ex-husband Jerry (Harry Connick, Jr.) who has found her at the motel and wants to get back together despite a restraining order and his abusive nature.  He's a con just out of prison looking to take care of business.  Oddly enough, he doesn't seem too jealous of Peter and there isn't much friction between them.  Jerry just kind of drifts in and out at odd times.
After Agnes and Peter go to bed together, Peter starts complaining of bug bites.  He has a difficult time convincing Agnes that there are bugs in the room, but eventually she sees them.  Peter thinks they're aphids and he starts studying them under a microscope.  To everyone on the outside, including R.C., Peter has got to be crazy.  He starts talking in wild conspiracy theories, saying the government is out to get him, the army doctors have been experimenting on him, and now Agnes is in on the plot.
Now, here's the cool thing about Bug: on the surface, Peter and later Agnes seem completely insane.  But there are odd moments in the film that aren't explained that at least gave me some doubt.  Like, when a government doctor shows up to Agnes' room and her ex-husband Jerry is with him.  In fact, Jerry's odd comings and goings, somewhat like an abusive husband (but not totally Patrick Bergen in Sleeping with the Enemy mode), is an interesting aspect to the film and when the conspiracy theories run rampant, there seems to be credence.
Another odd aspect is that Peter, despite being a kind of weird guy, doesn't in the least look like a conspiracy nut until after the sex scene.  And odd bite marks show up on Peter and Agnes, but they could very well be self-inflicted.  On the is-it-real-or-not level, Bug works very well. 
As a horror film, however, the movie wasn't all that scary to me because most of the time I was just wondering if it was all real.  If you watched this movie as a comedy, you might actually get some laughs because Agnes and Peter do some pretty funny things if they are indeed delusional.
It's an interesting film, and overall recommended.  It does a good job of having you care for the characters before the madness occurs.  I wish there could have been a bit more of a bridge between sanity and delusion as it all happens too quickly, but viewers looking for something a bit different should enjoy this.
Write a comment
You must be logged in to post a comment.