Movie Review: Michael Clayton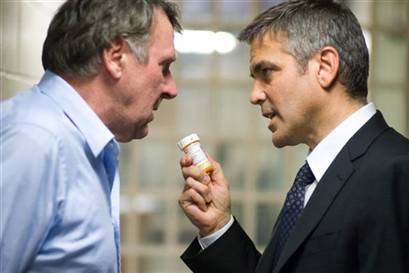 Warner Bros.
Screenwriter Gilroy got Hollywood's attention through the Bourne series (he's been around awhile, though, as he also has credits as diverse as Armageddon, The Devil's Advocate, and Proof of Life), and thus got his chance to go behind the camera for the first time with Michael Clayton, a legal thriller that plays out like a novel, but it's his original screenplay.
Also behind the scenes is star George Clooney with his longtime producing partner Steven Soderbergh, here also joined by Anthony Minghella.  There are a ton of directors involved with this project when you consider the producers and Sydney Pollack, who acts in this film.
Gilroy is going to have to learn how to tighten up his movies a bit better, but this is a good start.  With the title Michael Clayton, you know this is going to be more of a character study than a plot-driven mystery.  Clayton (Clooney) is a mop-up guy for a New York law firm who is sent to put out a fire involving another large law firm looking to merge with Clayton's.  Arthur Edens (Tom Wilkinson), a star litigator for the latter firm, has stripped down naked in a deposition involving a chemical company who knowingly sold their dangerous product without warning of the harm it could cause.  Clayton's job is to spin Arthur's meltdown for the defendants and make everything hunky-dory between the two merging law firms.
Recently appointed to this wickedly large firm is Karen Crowder (Tilda Swinton), who isn't impressed with Clayton and thus hires her own goons to fix the problems.  It looks like Clayton isn't going to be able to work magic here, because Arthur has completely switched over to the other side, looking to sue his employers and set the truth about the chemical company free.  He's also in love with the plaintiff Anna (Merritt Wever) and is unknowingly in danger.  In the middle of all this, Clayton has financial troubles stemming from his investment in a restaurant, and he owes a large sum of money because of his brother's personal life.
There are a lot of balls in the air, but Gilroy ties them up nicely, ending in a satisfactory climax that appears to be the movie's Big Scene that all the rest was written around.  Still, there is room for improvement: the beginning of the film is a flashback that could have been cut down a lot better, and there could have been more surprise and discovery in the mystery, the facts of which are laid out pretty early in the film.  So there's nothing to figure out, really, other than why Clayton's car explodes in the film's beginning flashback.
But it's riveting for the most part, and I was held rapt until the very end.  A good feature debut from Tony Gilroy, which is likely to get some Oscar consideration at the end of the year.  I think Clooney has a fair chance, as does Wilkinson, who commands the film every time he appears.  The script certainly has a chance.  But this is likely to be a crowded Oscar season and we'll see if this can stand out. 
Write a comment
You must be logged in to post a comment.