Movie Review: The Heartbreak Kid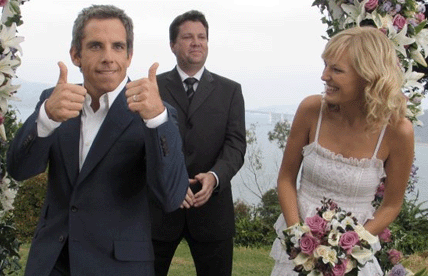 Paramount/Dreamworks
I was beginning to get a little worried with The Heartbreak Kid because the only thing the trailers wanted to really tout for laughs was Ben Stiller's umbrage with a mariachi band. At the very least, this is the scene that was in every trailer. I was beginning to think there was nothing else in the movie, besides his wife's annoyances, that the movie had to sell.
But this was wrong. The Heartbreak Kid actually couldn't sell many of the laughs because it's the Farrellys returning to R-rated comedy and there are a lot of their trademark gross-out gags that go beyond PG-13 material. They did this back in 1996 with There's Something About Mary, which had the filthy-sweet combination that has made Judd Apatow a household name. Apatow does it through dialogue, the Farrellys do it through outrageous sight gags.
In The Heartbreak Kid, Eddie Cantrow (Stiller) is really unlucky in love, mainly because he finds faults in women and blinds him to their strengths. After attending a wedding involving his former fiancee, his friend Mac (Rob Corddry) and his father Doc (Stiller's dad Jerry) tell him he needs to stop being so picky. He then runs into Lila (Malin Akerman, in an excellent performance), who is all the perfect in the world. But after six weeks of a perfect relationship, her job is moving her to Rotterdam. Because they don't relocate married people, Eddie decides, even after a few short weeks, to propose and get married.
So on the honeymoon to Cabo, the "switch flips" and Lila becomes completely unacceptable. Annoying, not very free-spirited, extremely dangerous in bed, and downright dumb. His last nerve is about to be frayed and it's here he runs into Miranda (the exceedingly lovely Michelle Monaghan), who really is the perfect woman. Obviously, there's a conflict, as he falls in love with her and doesn't tell her about the wife. And there are a couple of twin brats he met at his ex-fiancee's wedding who are going to cause him some trouble too.
The movie is decent up to the point he meets Miranda, where it begins to take off. Michelle Monaghan is so charming and gorgeous, and good chemistry with Stiller, the film becomes compulsively watchable. Not to say Malin Akerman, who might get a lot of comparisons to Mary's Cameron Diaz (blonde, blue-eyed, same chipper voice), isn't worth watching. She turns in a brave performance, one that not many beautiful women would be willing to do: she bravely becomes annoying, disgusting, and incredibly unattractive.
The movie has surprises and laughs, and if you happen to wait through the whole end credits, you'll see one of the most disturbing jokes ever committed to film. You'll cringe and then start laughing at the audacity. It's not hard to say that this is their best film since There's Something About Mary, and will deserve to be up there with Knocked Up and Superbad for one of the best comedies of the year.
Comments
Write a comment
You must be logged in to post a comment.