Movie Review: Away From Her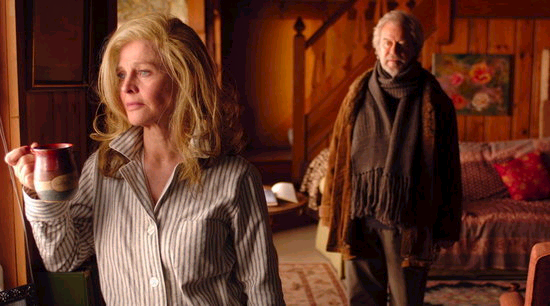 Lionsgate, 2007
Somehow, I missed Away From Her, a movie released in May of this year that was getting some love from the critics during its run during the festival circuit.  Canadian Sarah Polley, who broke onto the scene with a memorable performance in The Sweet Hereafter (and that movie's director, Atom Egoyan, serves as producer here) and also has notables Go and the remake of Dawn of the Dead on her resume, went behind the camera here for her feature debut.
It's amazing when someone so young (Polley is now 28) can make a film that seems well beyond his or her years.  It's not just the subject matter: dealing with Alzheimer's, but the relationships between people who are well into their 60s and 70s.  Although this territory was covered memorably in The Notebook, it wasn't a full-blown feature dealing with all the different issues of the disease, and how to cope with them.
In Away From Her, Grant (the wonderful Gordon Pinsent, who I regrettably had never heard of until this) is married to longtime companion Fiona (the equally great Julie Christie), who is in the beginning stages of Alzheimer's.  She makes the decision, while she still has some sense, to check herself into a care center.  Grant knows this means he will be away from his wife for the first time in ages, and with the progression of the disease, a lot of uncertainty hangs in the balance as to whether she would recognize her own husband after only a short period of time.
He has to wait a month before he can ever visit, and when he does, she indeed doesn't recognize him, and the unintentionally hurtful phrase, "People learn not to take it so personally," begins to slowly turn his life into a different direction.  He sees his wife begin to fall in love with another patient, Aubrey (Michael Murphy), and is unable to do anything about it.  He befriends Aubrey's wife Marian (Olympia Dukakis).  In the back of his mind, he wonders if his wife might be faking it, possibly punishing him for a past indiscretion.
The performances are all first-rate; Pinsent is unforgettable and hopefully he'll get at least some mention during Oscar time, and maybe Christie and Dukakis as well.  The movie is heartbreaking and uplifting all at once, the mark of a great drama.  This is a mature work and I'm already anticipating the next time Polley gets behind the camera.
Write a comment
You must be logged in to post a comment.