Movie Review: Eastern Promises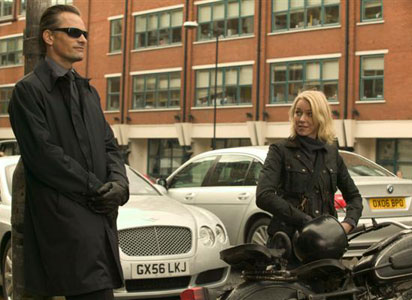 Focus
One of my more anticipated films of the fall, Eastern Promises certainly had a burden to deliver before I ever walked into the theatre.  I realize this is totally unfair, since expectation can weigh down a film.  But my philosophy is that expectation can only weigh down a film so far.  A movie that is truly good will usually feel that way while I'm watching it.
So, it was a pretty disappointing experience watching this film, riding high on the re-teaming of Viggo Mortensen with his History of Violence director David Cronenberg.  That film went into my top 10 in 2005.
In Eastern Promises, midwife Anna (Naomi Watts) finds a diary in the purse of a dying underage pregnant girl (Sarah-Jeanne Labrosse).  The baby survives, and Anna looks to find clues to where the baby belongs.  The diary is written in Russian, and she tries to get her uncle Stepan (Jerzy Skolimowski) to translate it.  He refuses, so the only other lead is a business card for a restaurant located inside the diary.
The man who runs the restaurant is Semyon (Armin Mueller-Stahl), who unknown to Anna is the head of a crime family and that the diary contains secrets about he and his son.  His son Kirill (Vincent Cassel) is a hopeful heir to the throne, and he's bringing driver Nikolai (Mortensen) into the fold.  Anna tells Semyon that her uncle could possibly translate the diary, putting she and her family in danger.  The diary mentions the child, putting her in danger too.  At every turn, however, Nikolai is there to protect, hard as he is, even as he gets more deeply connected, growing more in favor with Semyon than Semyon's own son, who around every corner is screwing everything up.
It's much too straightforward, and a plot point towards the end seems to be leading the movie in a different direction that could have been very satisfying had it reached its conclusion.  But the movie ends abruptly, unfinished even.  If you watch a lot of movies like I do, you'll see certain things well before they are revealed.  Even so, predictability isn't necessarily a bad thing if the movie is exciting.  And this movie is exciting only intermittently.
This is a good showcase for Mortensen, who after a long road of character roles has finally emerged as a go-to guy.  But the radiant Naomi Watts is pretty much wasted here.  The plot, mirroring somewhat a Godfather or Goodfellas, is solid but gains no momentum as something in which you hold your breath in anticipation, scene after scene.  It begins well, falls a bit flat, rises again, falls again, and then stays there. 
As expected, this movie is getting raves pretty much across the board so maybe I'm being too hard on it, but I thought long and hard about this one before writing and was unable to convince myself that perhaps I wasn't giving this movie a fair shake.  Conventional is conventional, no matter whose name is on the package.
Comments
Write a comment
You must be logged in to post a comment.