Movie Review: Across the Universe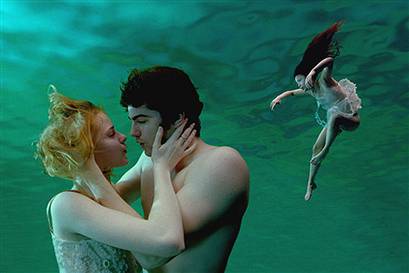 Sony
I don't think any musical has gotten it right since Moulin Rouge and Chicago made the genre viable again a few years ago.  When I first saw the trailer for Across the Universe nearly a year ago, I thought there was the possibility that a Rouge-esque musical, complete with fun visuals and a heartfelt love story, was in the works.  But then I started hearing about how director Julie Taymor wanted to take her name off the film, and I saw the unholy release date set for September, I began to wonder what was wrong.
The problem with this Beatles-inspired musical is what deflates most underwhelming films: bad character development, a creaky story, and lack of focus.  I would probably have been happy if this was just about Lucy (Evan Rachel Wood) and Liverpoolian Jude (Jim Sturgess) and the Vietnam conflict.  But instead, since musicals all have to be bohemian a la Rent (aka the modern La Boheme) we have to care about all of their hippie friends too.  Those are singer Sadie (Dana Fuchs), her future guitarist/lover JoJo (Martin Luther), lesbian Asian chick Prudence (T.V. Carpio), and Lucy's brother Max (Joe Anderson), who is actually the best part of the movie.  All of these people come from different walks of life and find themselves in the same apartment in Manhattan, fighting the war with their art, music, and protest, while Max actually gets drafted and has to fight.
So, to the tune of a good chunk of the Beatles song list, Jude and Lucy fall in love while the Vietnam conflict rages, and for awhile it's a psychedelic trip: Bono loads everyone up in a van to take a trip to California to meet Eddie Izzard, and somewhere in there Joe Cocker makes an appearance.  Eventually, though, the times catch up to them and both have different ideas on how to spend their time.  Jude likes to draw, Lucy likes to demonstrate against Vietnam, and bohemian lovers will find stupid reasons not to be together, all to the pop sounds of The Beatles…is there anything they didn't know?
I admit, I'm not the biggest Beatles fan in the world.  I like the more popular stuff but I've never gotten into them enough to know every single thing they've ever created.  But I do know that character names and references fly around for such fans and the question becomes, "Is it enough for you to be entertained?"  Because if someone ever made a Led Zeppelin musical, and it had a load of Zep references and tunes set to some bland story, I'd have to give that a long, hard consideration.  I guess entertainment, however you find it, is OK even if you had to crawl through mud to get to it, even if it's entertainment in which you're already familiar.
At the very best, this is a noble effort that just didn't connect with me.
Comments
Write a comment
You must be logged in to post a comment.