Movie Review: The Nanny Diaries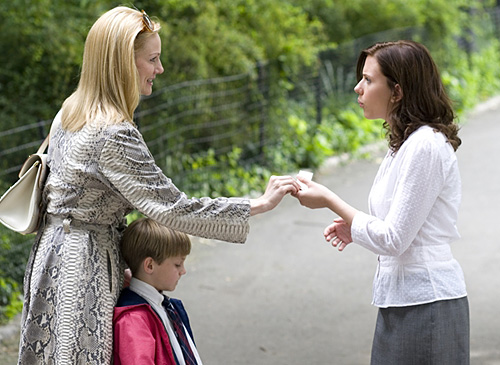 MGM/Weinstein Company
After I watched The Nanny Diaries I knew exactly how most critics would probably describe this, so I actually read a couple of reviews before writing this one.  So, I'm not the first to say this is a lot like The Devil Wears Prada (which I still insist is exactly like Swimming With Sharks) in which someone works for a soulless employer and then writes a tell-all about how soulless their employer was.
Can you imagine…some mothers on the Upper East Side of New York are rich bitches who treat their children as accessories and let the nanny do all the raising for them?  Egads!  I had no idea!  No wonder our occupation of Iraq went bad.  Here, the RB is Mrs. X (Laura Linney) who hires Annie (Scarlett Johansson) to nanny her kid Grayer (Nicholas Art).  Annie has no experience with kids, is seemingly destined for a great job in Manhattan, but she's choking during interviews and wants to skew from the norm, so that when the vacant Mrs. X mistakes "Annie" for "Nanny" she's willing to take the job.
And so it begins, she's getting on-the-job "training" and quickly finds out Mrs. X is a super-demanding non-mom is a troubled marriage with always-working, always-cheating Mr. X (Paul Giamatti).  She gets some support from friend Lynette (Alicia Keys) and love interest "Harvard Hottie" (Chris Evans), and not surprisingly begins to care for Grayer in every way.  She wants to keep this all a secret from her mom (Donna Murphy), who worked hard to make sure Annie had a better life than she did.
And you know where this is headed: Even the slightest of straying from her duties as a nanny is going to get her in trouble with Mrs. X, and people just gotta learn a lesson in the end.  It's your usual predictable chick-flick, which will be a blessing to those who just can't get enough.
Write a comment
You must be logged in to post a comment.