Movie Review: Superbad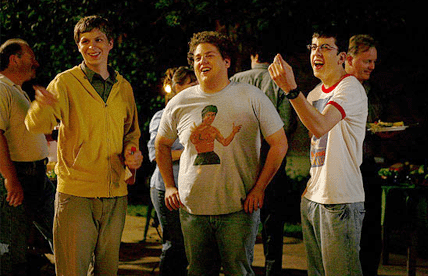 Sony
This is Seth Rogen's year, after crashing screens as the leading man in the "surprise hit" Knocked Up in June, and now his feature writing debut with Superbad.  The trailers in theatres have been cracking people up for months now, but it's the red-band restricted trailers online that have been preparing comedy lovers for filthy fun come August 17.
In this story, the co-writers name their characters after themselves: Seth (Knocked Up's Jonah Hill) and Evan (Michael Cera of TV's Arrested Development).  Evan is about to go to Dartmouth without his longtime best friend, and the two want to have some summer fun before college.  They both have girls they want: Seth wants Jules (Emma Stone), Evan wants Becca (Martha MacIsaac), but they are part of the unpopular crowd and don't get to mix with them much other than fleeting moments in school.  Jules wants to throw a party, and it seems like Seth and Evan can get a ticket in if they somehow are able to get beer.
Enter the "other" friend Fogell (Christopher Mintz-Plasse) who's even more unpopular than Seth and Evan.  But he's getting a fake ID and plans to buy the alcohol using it.  When Fogell is attacked at the liquor store by a robber and cops Michaels (Rogen) and Slater (Bill Hader) get into the mix, the night becomes an adventure to get the beer and go to the party and win the girls.
Though the comedy is extremely dick-obsessed, most of these jokes are really funny for sheer audacity.  When the movie lets Jonah Hill riff in a dirty manner without taking a breath and Michael Cera does his perfect straight-man act, it's absolutely hilarious, folding-over-your-knee hilarious.  I think it loses a bit of steam when the movie isn't about dialogue and it becomes the Trojan War-type of movie (that was the 1997 comedy where Will Friedle got in an adventure looking for condoms so he could bang Jennifer Love Hewitt), and it's more slapstick.  The dialogue is top-notch filthy hilarity, especially when Seth has a flashback as to why he doesn't like Evan's crush Becca.
At times, this is the funniest movie of the year, and it's a resounding go-see movie as the summer winds down.
Comments
Write a comment
You must be logged in to post a comment.