Movie Review: The Bourne Ultimatum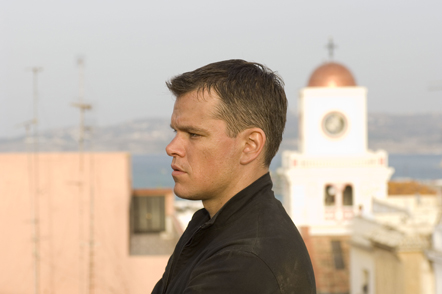 Universal
Can't Paul Greengrass just be hired to direct all the action films from now on? The Bourne Ultimatum accomplishes a feat very rare in our mass-produced sequel era: a third chapter that is equal to the greatness that preceded it. You know what to expect: car chases, fights, all-around fast-paced action, and yet you will be exhilarated beyond all measure.
Most of it comes from the intelligence on and off screen. Suspense and timing, woefully lacking in virtually every action picture that has come out this summer, is visible in every scene. Your pants are going to explode when you see how Greengrass takes you from that "what's going to happen next" mode to a full-on, in your face, visceral involvement. I would love to see how people's heart rate changes during a Greengrass film.
In Ultimatum, former CIA assassin Jason Bourne (Matt Damon) is trying to track down the men who made him kill for a living. A journalist, Simon Ross (Paddy Considine), has found an incredible high-up source to a series of articles he's been writing on Bourne, trying to connect the dots of past episodes, painting a picture of a top secret agent. Ross's information could help Bourne, but it puts both in big trouble: this time the black-ops unit is run by Noah Vosen (David Straithairn) and he's looking to off anyone who could expose the dirty organization.
Pamela Landy (Joan Allen) returns as the CIA's lone beacon of integrity, and Nicky Parsons (Julia Stiles) gets more into the action than she ever has in previous installments. Both ladies are Bourne's glimmers of hope, and very capable of holding their own. Albert Finney plays one of the high-up CIA goons, a hellish faux-stepfather type much like Brian Cox in the previous adventures.
Greengrass uses that shaky cam and quick edits, and sometimes it can be confusing, but it's not the kind of confusing where a filmmaker randomly patches cuts together to fill the space; he's actually considering each edit as it whizzes by with great angles and an overall coherent point of view. You may not know everything that happens in one scene, but the images that capture the eye are breathtaking and involving. Let's not forget the underrated Matt Damon, who has shown very good acting chops this entire series.
So, yeah, go see The Bourne Ultimatum because it's smart, it's fast-paced, it's just fantastic. You're going to see some action that blows away most action films, and it's certainly one of the best of the decade. Man, the next Greengrass film can't get here soon enough.
Follows: The Bourne Supremacy
Next: The Bourne Legacy
Write a comment
You must be logged in to post a comment.