Movie Review: Sunshine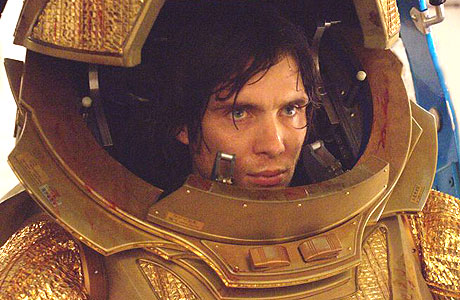 Fox Searchlight
After watching the awesome trailer for Sunshine, I figured this would be another 28 Days Later for Danny Boyle, another sleeper indie sneaking its way into mainstream theatres and going on an unprecedented run into a medium-sized hit.  Unfortunately, it seems as though this one is going to be scattered here and there in local arthouses near you.
It is a bit of a tough sell.  It's sci-fi with no aliens and the biggest star is (take your pick) between Michelle Yeoh, Cillian Murphy, and Chris Evans.
It's the distant future and the Icarus II is making its way towards the sun with its crew hoping to launch a payload that will reignite the dying star.  The previous Icarus crew was believed to have perished, communications had ended before they were able to complete their mission.  We have physicist Capa (Murphy), Cassie (beautiful Rose Byrne, who was in the Boyle-less 28 Weeks Later) botanist Corazon (Yeoh), objective-obsessed technician/engineer Mace (Evans), sun-addicted psychologist Searle (Cliff Curtis), among others.  As they approach the sun, a signal is being beamed off of Mercury: it's the original Icarus.
A decision must be made.  Should the new team go down and search the old ship for survivors, maybe supplies?  Or should they continue with their original mission, knowing that the slightest miscalculation in a new direction could jeopardize it?  Well, as they say, there'd be no movie if they didn't make the decision to divert the mission.  A number of problems come up, and the future of Earth hangs in the balance.
Boyle once again shows a visual flair and the ability to create suspense.  It's not a perfect movie by any means, but it will probably be one of those that I'll buy on video down the road and just completely fall in love with.  It has the feel of previous sci-fi classics such as 2001, Solaris, and Alien, movies Boyle mentioned in a Q & A after the screening I attended.
Plus, it feels original even standing beside those films.  It's certainly worth a watch when it hits your area.   
Comments
Write a comment
You must be logged in to post a comment.