Movie Review: Once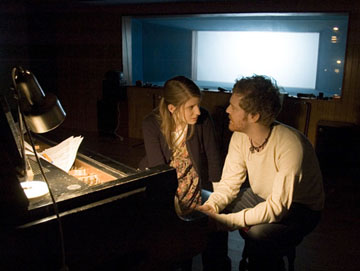 Fox Searchlight
Once has been out now for awhile in New York; it opened a limited run on May 16, and I just kept hearing about it one way or another so I decided to check it out.
I think anyone who sees as many movies as I do welcomes a refreshing change, and Once is a different kind of movie musical, a different kind of "love story."  The term "musical" tends to be misleading since it conjures up the idea that people will suddenly break out into song in the middle of a scene, but this is not what Once is.
It's one of those movies where no one calls each other by name, so Guy (Glen Hansard), who repairs vacuums with his dad (Bill Hodnett) and earns a little extra income as a street musician, meets Girl (outstanding debut performer Marketa Irglova), and before long they're singing songs and playing music together.  It's a yin-yang sort of friendship, and typically you would see these two fall in love.  But the film has a conservative take on their current, hazy relationships with others, and it leaves this detail hanging until the very end.
And so, the movie is powered by its songs, which are catchy and emotionally resonant, and the two end up collecting a band to record the songs, and it's a very tidy, rather uncomplicated movie.  What draws you in are the two lead performances; both Hansard (who once was in a band called The Frames) and especially Irglova are appealing enough to carry this thing out.  Just don't look for anything really heavy and you'll have a good time.
Write a comment
You must be logged in to post a comment.