Movie Review: Harry Potter and the Prisoner of Azkaban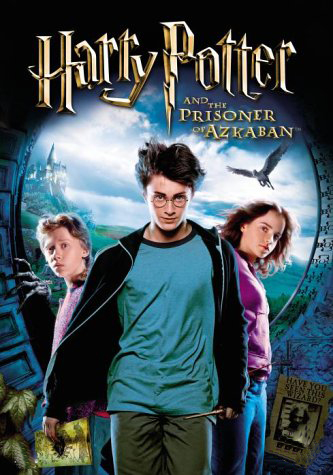 Warner Bros., 2004
It was a bit of a stunner that the Mexican-born Cuaron would be asked to direct the third chapter of the Harry Potter franchise, considering that the future Children of Men director at the time he was best known for Y Tu Mama Tambien, a sexually explicit coming-of-age story. But back in 1995, Cuaron directed one of the most beautiful family films you will ever see in A Little Princess, which showed he had a deft visual touch along with being able to work with children. As it is, this is the best film of the franchise.
Harry Potter (Daniel Radcliffe) is now 13 and he's fought more battles than people several times his age have been involved. Yet, he's still stuck with his aunt, uncle, and cousin (Fiona Shaw, Richard Griffiths, and Harry Melling) for the summer and he's not been in touch with his friends Hermione (Emma Watson) and Ron (Rupert Grint). His awful relatives have been keeping his letters away from him and he's still stuck in a room under the stairs. This time, he's bailed out by Ron in a flying car.
The magic world is abuzz with the escape of Sirius Black (Gary Oldman) from Azkaban prison. Black was implicated in the death of Potter's parents and is believed to be working for Voldemort, so security is high at Hogwarts this year and Azkaban's spooky guards, the Dementors, cold, flying harbingers of death are all around.
The new Defense Against the Dark Arts teacher is Professor Lupin (David Thewlis), trying to break the curse of the DADA's before him. But he has a flaw and a connection to Black. Snape (Alan Rickman) also starts slowly becoming more involved with the heart of the story, and even Ron Weasley's pet rat has plot significance.
Returning here are McGonagall (Maggie Smith), Hagrid (Robbie Coltrane), and Tom Felton as Potter rival Draco Malfoy. Terrific character actor Michael Gambon takes over for Richard Harris as Dumbledore. Emma Thompson plays the eccentric soothsayer Professor Trelawney, who always thinks Potter is going to die (hehehe…he just might).
We get good background story filled in here, and we get an exciting adventure tale, including time travel, all elevated by Cuaron's visual style that was missing from the Columbus adventures. So everything is strong here. It's very well made. This is where Potter fans start grumbling, however, due to the massive cuts from the book. Cuaron suggested that each successive book get told in two parts, considering their length, but oddly Warner Bros. passed on the chance to make even more gobs of money and make fans totally happy with the adaptations. I find that interesting. Having read the books myself, I can't really say that I miss anything that was cut, but that's fanaticism for you to want every little detail to be included in a medium such as movies that are meant to be little more than two hours.
Anyway, the third chapter went on to gross $249 million in the summer of 2004, close to $800 million worldwide. It was the second box office drop in a row for the franchise. Some people think that means something, but when you consider this kind of money and attendance, you're going to lose some of your audience over time. It was the 6th-place domestic finisher in 2004, dominated by Shrek 2, Spider-Man 2, and The Passion of the Christ. Meet the Fockers and The Incredibles also beat it out, but it is 19th worldwide and was 2nd that year (behind Shrek 2).
So, Harry Potter at this point has made something over $2.5 billion worldwide. That's pretty good change, and from this point has 4 more movies to go.
Follows: Harry Potter and the Chamber of Secrets
Write a comment
You must be logged in to post a comment.