Movie Review: Evan Almighty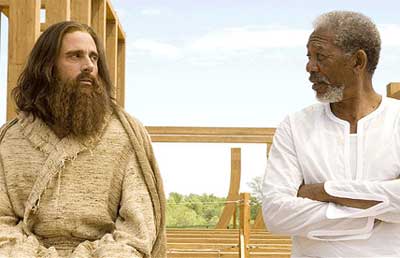 Universal
One of the tiny details of Bruce Almighty was that Evan Baxter (Steve Carell) was a bit of a weasel, a perceived backstabber who was undeservedly given a promotion ahead of Bruce (Jim Carrey).  As anyone who saw the movie knows, Bruce screwed up when he was given the powers of God, going much too far with his personal gain and far too lazy to balance the needs of everyone in his hometown of Buffalo.  I thought a good idea for the sequel would have been to have Evan be given the same chance…but maybe do a better job than God (or at least a perceived better job).  It would have fit nicely with his character and it would have been hilarious seeing Freeman and Carell square off in a "showdown."  Hey, it's blasphemy, we might as well have some fun.
Instead, writer Steve Oedekerk teams up yet again with director Tom Shadyac and they decide to delve into actual biblical inspiration for their next tale, as in Noah's Ark, and the whole package is off-kilter for a sequel.  It's a movie more family-oriented, completely inconsistent in tone with Bruce Almighty.  The name, Evan Almighty, is misleading, considering that Evan is not granted the powers of God.
Evan has just made a successful congressional run, I suppose while still being anchor at his news station (a bit of a conflict of interest I imagine, but not mined for laughs).  He packs up with wife Joan (Lauren Graham) and three sons (Johnny Simmons, Graham Phillips, and Jimmy Bennett) to Washington where he hopes to run a Mr. Smith-like term in office.  He has his assistants, Rita (Wanda Sykes), Marty (John Michael Higgins), and Eugene (Jonah Hill).  He's being taken under wing by senior congressman Long (John Goodman), who's obviously pretty shady and wants Evan to be onboard for some sort of land use bill he wants to propose.
Evan, after praying that he wants to change the world, gets a visit from God (Morgan Freeman), who tells him he needs to build an ark because a flood is coming.  Putting Evan in a bad spot, God doesn't reveal what the purpose of the flood is, animals in pairs start following Evan everywhere, and his physical appearance begins to change to the point of making him look like a madman.  It is a tremendous strain on his personal and professional life, especially since he starts admitting that he's been talking to God and that God wants him to build an ark.
There are a ton of things wrong with Evan Almighty but the most glaring and important is that it's not all that funny.  At least its predecessor Bruce Almighty tried to make a lightly subversive attempt at playful blasphemy, even though it too had no real ambition other than to be a one-joke special effects comedy.  Another thing that bothers me about a movie like this is how Evan will swear that if he shaves his beard, it will grow back in a matter of seconds, but never wants to show anyone to prove he's not crazy.  Sure, the filmmakers could say, "Well, that's not what God would want Evan to do because he's being tested," but I say at least acknowledge this leap of logic.
It's a shame because I like the entire cast of this film, especially Carell, who gets a couple of laughs with line readings only he can pull off.  But those are so rare.  I admire Oedekerk and Shadyac for showing reverence towards the Almighty, but considering that it's a comedy, I think they missed a great opportunity at making a movie that not only could have been irreverent, but stayed respectful, and was more funny.
Follows: Bruce Almighty
Comments
Write a comment
You must be logged in to post a comment.