Movie Review: Ratatouille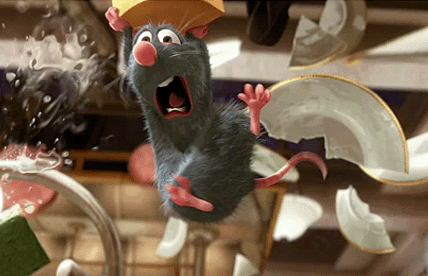 Disney, 2007

That picture alone destroys everything in the Shrek franchise as far as I'm concerned. When it comes to Pixar, you get a great deal of warmth, attention to detail, and care in every phase of storytelling and it shows in practically every frame. Add legendary animator Brad Bird, whose work on The Simpsons, The Iron Giant, and 2004's The Incredibles has solidified his status as must-see, well, it isn't too tough to figure out that Ratatouille is superior to most animation, nay, most films, you'll ever see.
Last year Pixar stumbled slightly with Cars, but it was a testament to their winning ways that one of their least was still one of the better movies of last year. They still have yet to make an absolute terrible or even so-so movie. Add to that their animation shorts which appear before every new feature. All winners. How in the world does this happen? Truly, I'm amazed at how their ideas translate to the big screen so well every time. They've done this since 1995 with 7, now 8, films. Nobody has this kind of record.
In Ratatouille, a rat by the name of Remy (Patton Oswalt) has an amazing sense of smell, and desires to be a cook. He, along with hundreds of other rats, make their home in an attic of an old lady who seemingly always has the cooking program of reknowned chef Gousteau (Brad Garrett) on her television. Remy dreams of being as good as Gousteau, who has recently died after a bad review from Anton Ego (Peter O'Toole) took away one of his five stars at his famous self-named Paris restaurant.
Remy gets separated from his family after an incident at the old lady's house and ends up in Paris, where he camps out at Gousteau's. He starts getting visits and advice from the ghost of Gousteau, really just a figment of his imagination. A recently-hired garbage boy named Linguini (Lou Romano) becomes a star chef with Remy's help. The head chef, Skinner (Ian Holm), thinks something's fishy with Linguini's skills, and tries throughout the film to prove it. Meanwhile, Linguini starts up a romance with the kitchen's lone chick, Colette (Janeane Garofalo).
Remy eventually reunites with his family and his dad Django (Brian Dennehy), who tries to tell him that humans will find a way to harm him in the long run.
And this kind of story could have had the usual path: Linguini becomes such a star chef he starts treating Remy badly, or Skinner succeeds in finding the rat under Linguini's hat until someone convinces the head chef to take heart, or some other cliche plotline that sends the film to its conclusion. But everything runs along without feeling warn out.
Despite the gee-whiz computer animation, the film has the feel of those classic old cartoons (like Merrie Melodies) that I used to watch in marathons during early mornings. If you want to bring up any aspect of this cartoon, it does it well. Animation, pacing, mood, excitement, story, voice acting (you won't be able to tell who does any of these voices, which is a big plus because of the distraction factor involved with distinct celebrity voices), characterizations. Not one misstep.
People of all ages will be enthralled as Brad Bird whips you around in tour-de-force scenes of brilliance. Look at the "camera angles." See what kind of care he brings into each scene. You know you're in good hands and on a completely different level than any other animation studio provides. It can't be said enough. Ratatouille manages to score high on Pixar's own scale, and it is not to be missed on a big screen.
Comments
Write a comment
You must be logged in to post a comment.