Movie Review: The World is Not Enough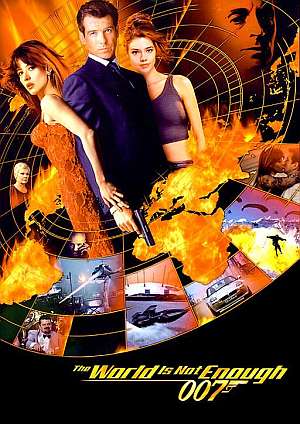 MGM/United Artists, 1999
Once again, producers Barbara Broccoli and Michael G. Wilson found a very strange director for the Bond franchise in veteran Michael Apted, who became the eighth 007 helmer. Apted was mostly known for his 7-Up documentaries and a string of dramatic failures, his last success being Gorillas in the Mist, and also the man behind Coal Miner's Daughter. How that translates to being an action guy, much like the previous film's Roger Spottiswoode, is beyond me. And again, I've got to think he was picked because he could make the movie professionally and on time.
This film starts with Bond (Pierce Brosnan's third) taking on a Swiss banker who knows who may have been behind another British agent's death (many Bond films start out this way) involving a load of cash. During the resulting tensions, Bond gets help from an unlikely source, Julietta (Il Postino's filthy-gorgeous Maria Grazia Cucinotta), who a few minutes later will be his enemy. After leaving the Swiss bank with the cash and returning to MI6, Bond reports to M (Judi Dench, her third), who has just finished exchanging pleasantries with her friend and the money's owner, Sir Robert King (David Calder). King unknowingly has an explosive pin on his suit that will blow him to smithereens once he approaches the money, starting off another Bond action sequence involving boats and chasing Julietta, and a haunting theme song from the moody Garbage.
It appears that the money is involved with a long-ago kidnapping plot involving King's daughter Elektra (Sophie Marceau), who somehow killed her captors. She plans to take over her father's business, but she's a bit reckless. Bond is supposed to get to know her and find out who might be behind the grand scheme, not telling her that the person behind it might be the same person who kidnapped her. This person might be Victor "Renard" Zokas (Robert Carlyle), a man who took a bullet in the head and survived, and is apparently getting stronger because of it, but will also soon die because of it.
You've got the details, so you know Elektra is evil. Just look at her name. What's her grand scheme? It involves taking over her father's oil pipeline and coordinating a big attack that leaves all the other competing pipelines in the dust, thereby giving her the monopoly on the oil reserves. Helping Bond out in this adventure is nuclear scientist Christmas Jones (Denise Richards…begin laughing), and returning as Russian mafia guy Valentin is Robbie Coltrane, a little more active in the plot this time. Also more active in the plot is M, whose personal feelings actually get the better of her and thus becomes part of the action. Nice touch.
Again, good action pieces, but we have Bond doing something that became a signature nineties stalwart, outrunning a fireball. There is a pretty cool scene involving Bond and Jones running down a nuclear weapon through the oil pipeline; it's the centerpiece of the film. You'll never really go wrong with action sequences in a Bond film; sometimes they are way too over-the-top but thrilling nonetheless. Story is what counts in making them bad or good.
Denise Richards got a lot of flack in her day as the next big-boobed Barbie doll who couldn't act and got into big pictures anyway, as if the Bond franchise was filled with Oscar-winners all this time and she was somehow ruining a legacy. But I'm afraid I'm going to have to pile on here. Every line reading, she performs with such camera-hogging sincerity that even on her most mundane of lines, she grinds the picture to a halt. Sorry, when you want to be taken seriously, you aren't a nuclear scientist who looks like that and wears midriff-baring shirts and short shorts, mainly when your line-readings are just painful.
Also, when you set up a character that is supposed to be getting stronger and stronger, but will die for the same reason, you must capitalize on it. Carlyle is the best thing about this movie, and he is reduced by what I consider to be a little bit of PC-ness by making Marceau the main villain. This guy could have been such a badass, and he is offed all too easily considering what has been built up about him.
So again, we have a good action film with many negatives, and so it's par for the course, about the same quality as the previous Tomorrow Never Dies.
This would be the final appearance of Desmond Llewelyn as Q, his 17th. He died in a car accident in 1999, and prophetically, the film, during its usual gadget scene, has Q introducing his successor R (John Cleese). Q has one of his finest moments here when Bond asks him if he's retiring soon; he says, "Always have an escape plan," and a secret elevator promptly lowers him out of sight.
Follows: Tomorrow Never Dies
Next: Die Another Day
Write a comment
You must be logged in to post a comment.