Movie Review: Ocean's Thirteen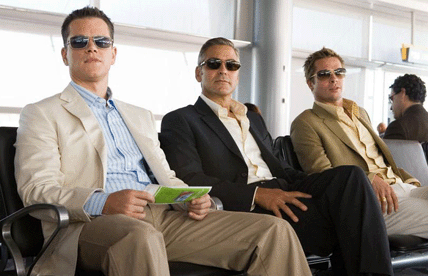 Warner Bros.
When Steven Soderbergh is clearly having fun, we have fun.  It's amazing after the director's do-no-wrong era in the late nineties, up to 2001, that he hasn't done work that even comes within striking distance to those films except for Ocean's Twelve and the latest, Ocean's Thirteen.
With one caveat: the probability of Soderbergh and his band of actors making the big heist/double cross/sleight of hand caper film is minimal after this latest adventure.  As Basher Tarr (Don Cheadle) says, when asked if he can perform the same task as he did in Ocean's Eleven, "You don't do the same gag twice in a row," it's a bit of a hint that pulling off these types of stunts might start feeling a bit too similar should the Ocean's franchise continue.  More power to them if they can figure out a new, fresh direction.
In this installment, Reuben (Elliott Gould) is swindled by shady partner Willie Bank (Al Pacino) in the construction of a behemoth hotel and casino in Las Vegas.  Reuben suffers a stroke or something, and Danny Ocean (George Clooney), Rusty (Brad Pitt), Linus (Matt Damon), Livingston (Eddie Jemison), Basher (Cheadle), Yen (Shaobo Qin), Virgil (Casey Affleck), Turk (Scott Caan), Frank (Bernie Mac), Saul (Carl Reiner), Roman (Eddie Izzard), and even past victim Paul Benedict (Andy Garcia) get in on a revenge plot.
The idea: to rig all the games at the new casino, to disrupt an A.I. driven security system, and to steal diamonds awarded to Bank for each of his hotel and casinos that have been rated the utmost in quality.  Also, to make sure that he doesn't win another award, and to make sure that his profit margin is so low that he'll be forced out of his own casino.  This will require the usual: lots of acting, trickery, infiltration, and so on.
Helping Bank out is Abigail Sponder (Ellen Barkin), who becomes unwittingly integral to the plan.
While Ocean's Thirteen doesn't quite reach the height of Ocean's Eleven, it is Soderbergh having fun again and top stars shaking off that tabloid/political/career-obsessed suit they seem to wear every day.  This is them with their hair down, and it comes through onscreen.  With a satisfying sequence of events, the movie should entertain most looking for a couple of hours to kill.
Follows: Ocean's Twelve 
Comments
Write a comment
You must be logged in to post a comment.